HIV proves no obstacle for couples: Study
Treatment, education allow couples to live normal lives: Vancouver Coast Health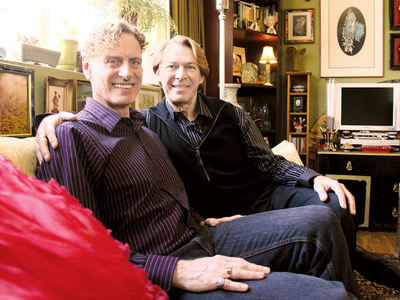 BY MATT KIELTYKA
METRO VANCOUVER
March 02, 2012 - Today, HIV-AIDS is no more a death sentence than it is a barrier to love.
Vancouver Coastal Health says that, with effective diagnosis and treatment, couples are able to live normal, healthy lives even if one partner is HIV-positive.
"We've come a long way," said Dr. Réka Gustafson, the director of communicable-disease control at VCH. "If one partner has an infection, you can manage it with treatment and go on to live a long, healthy life together. The biggest myth that exists is that HIV is a death sentence and you can't prevent transmission."
A recent four-year HIV Prevention Trials Network study (HPTN 052) proved otherwise.
Researchers tracked one group of 900 serodiscordant couples - where one partner is HIV-positive and the other is HIV-negative - and recorded only one case of HIV transmission in that time, and that was before the infected partner's treatment took effect.
Bradford McIntyre and his husband, Deni Daviau, are living proof that the virus doesn't get in the way of a positive, long-term relationship.
The two Vancouver men have been happily married for 10 years; McIntyre has been living with HIV for 28.
"In the early years, when I told people I was HIV-positive, people were frightened and even ran as fast as they could because of the stigma," said McIntyre. "We now know, through treatment, a person can have a normal life, date, get married and have children."
Highly active antiretroviral therapy (HAART) can reduce viral loads in patients to the point where the risk of transmission is as low as one per cent - and virtually eliminated with safe-sex practices.
"There is more to life than the disease, more to a relationship," said Daviau. "There are small health issues that Brad has to deal with. It's part of life."
McIntyre added,"It may not be easy at times, but couples get through."
The key is to access treatment as soon as possible, starting with diagnosis.
VCH offers HIV testing at hospitals and family medical clinics. Gustafson recommends anyone getting a blood test to ask for HIV screening as well.
"Most people will test negative," she said. "But in the unlikely case the test is positive, you get the best support and care very quickly."
###
Source: Metro Vancouver
http://metronews.ca/news/vancouver/8825/hiv-proves-no-obstacle-for-couples-study/

"Reproduced with permission - Metro Vancouver"
Metro Vancouver