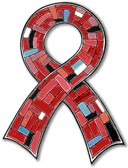 NATIVE AMERICANS CALL FOR INCREASED HIV TESTING PER CDC RECOMMENDATIONS HONORING THE 7TH ANNUAL NATIONAL NATIVE HIV/AIDS AWARENESS DAY
March 6, 2013 - On March 20, 2013, the 7th annual National Native HIV/AIDS Awareness Day, Native people across the U.S. challenge individuals, health providers, and government agencies to increase HIV testing in American Indian, Alaska Native, and Native Hawaiian communities in accordance with US Centers for Disease Control and Prevention (CDC) recommendations.
"HIV affects our communities, but low HIV testing rates and irregular HIV data collection practices obscure its true impact," said Pamela Jumper-Thurman, a senior research scientist with Colorado State University's CA7AE project.
According to the CDC, Native Hawaiians/Other Pacific Islanders (NHOPI) and American Indians/Alaska Natives (AI/AN) had the third and fourth highest rates of new HIV infections in the nation (CDC, 2009 HIV Surveillance report). Despite this, over 70% of NHOPI and almost 60% of AI/ANs have never been tested for HIV (National Center for Health Statistics, 2010 National Health Interview Survey).
"We need our community to get tested for HIV but the work can't stop there," said Dr. Jumper-Thurman. "We also need public health agencies, local health departments, and community health centers to ensure their data collection practices comply with CDC recommendations."
In July 2012, the CDC published recommendations on HIV surveillance practices in AI/AN communities. Key recommendations included promoting routine, opt-out HIV testing and improving race/ethnicity classification of AI/ANs in HIV surveillance data. Local health departments and government agencies use HIV epidemiological data including HIV prevalence, or the estimated number of people living with HIV, to identify the populations most affected by the epidemic in their areas. This data, however, fails to paint a full picture of the disease in smaller populations, like AI/AN/NHOPI, unlikely to access HIV treatment or testing services. To view the full CDC HIV Surveillance Recommendations, go to http://www.cdc.gov/hiv/strategy/pdf/aaian-fact-sheet.pdf
###
CONTACT:
Andrea Israel / 970-491-7872
About National Native HIV/AIDS Awareness Day
National Native HIV/AIDS Awareness Day (NNHAAD), observed annually on the spring equinox, is a national community mobilization effort designed to encourage American Indians, Alaska Natives and Native Hawaiians across the United States and Territorial Areas to get educated, get tested, and get involved in HIV prevention and treatment. This federally recognized awareness day was founded in 2007 and is funded by the U.S. Centers for Disease Control and Prevention. Committee partners include Colorado State University's Commitment to Action for 7th-Generation Awareness & Education (CA7AE), National Native American AIDS Prevention Center (NNAAPC), Great Plains Tribal Chairmen's Health Board, Inter Tribal Council of Arizona, Inc. (ITCA), and Asian & Pacific Islander Wellness Center. To find out more, visit www.nnhaad.org.
For more HIV and AIDS News visit...

Positively Positive - Living with HIV/AIDS:
HIV/AIDS News