Bradford McIntyre, PRIDE Legacy Award Recipient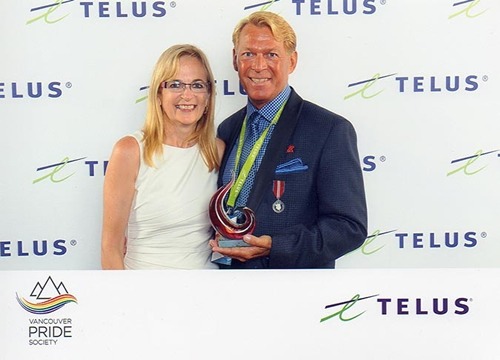 Friday, July 26 | By Joel Bennett | Website Coordinator
Email the author at joelb@aidsvancouver.org
Maxine Davis, Executive Director of the Doctor Peter Centre Presented Bradford McIntyre with the Pride Legacy Award in the PINK Category: Sexuality - Sexual Health and HIV/AIDS Awareness!
Bradford McIntyre Dedicated his PRIDE Legacy Award to people infected and/or affected by HIV/AIDS and to all the people we have lost to AIDS. - at July 20th at the Imperial on Main.
The first annual Pride legacy Awards presented by Telus took place at the Imperial (319) Main Street) with Host Fred Lee. Eight Awards were presented to outstanding community members who have contributed to Vancouver's LGBTQ culture. Each Award corresponds to a colour of the original eight colour flag and its meaning when artist Gilbert Baker first created the queer icon:
Bradford McIntyre - Pink - Sexuality (Sexual Health + HIV/AIDS Awareness)
Shawn Ewing - Red - Life (Lifetime Achievement)
Jag Bilkhu - Orange - Healing (Sports)
Barb Snelgrove - Yellow - Sunlight ( Community Superstar)
Maria Foster - Green - Environment (Safe Spaces)
Joe Average - Turquoise - Art (ART)
Dean Malone - Blue - Harmony (Community Leaders)
Jen Sung - Purple - Spirit (Youth) -
Source: http://www.aidsvancouver.org/community/bradford-mcintyre-pride-legacy-award-recipient
"Reproduced with permission - AIDS Vancouver "
AIDS Vancouver

For more HIV and AIDS News visit...

Positively Positive - Living with HIV/AIDS:
HIV/AIDS News