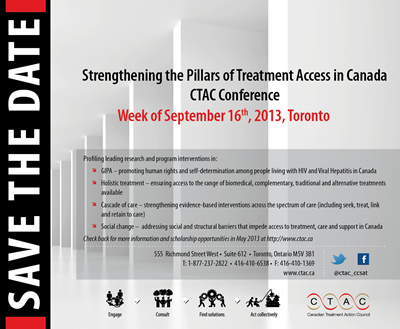 Strengthening the Pillars of Treatment Access in Canada
CTAC Conference
Save the date: Week of September 16th, 2013 -Toronto
Profiling leading research and program interventions in:
• GIPA - promoting human rights and self-determination among people living with HIV and Viral Hepatitis in Canada
• Holistic treatment - ensuring access to the range of biomedical, complementary, traditional and alternative treatments available
• Cascade of care - strengthening evidence-based interventions across the spectrum of care (including seek, treat, link and retain to care)
• Social change - addressing social and structural barriers that impede access to treatment, care and support in Canada
For more information and scholarship opportunities in May 2013 at http://www.ctac.ca/pages/strengthening-the-pillars-of-treatment-access-in-canada
###
For more information please contact:
Akim Adé Larcher,
+1 416-268-1622,
akim@ctac.ca


ABOUT CTAC
The Canadian Treatment Action Council (CTAC) works to secure and ensure access to therapies, treatments and care for people living with HIV/AIDS, including those who are co-infected, by working with the public, private and not-for-profit sectors. For more information on CTAC's mandate, mission and work please visit www.ctac.ca .
"Reproduced with permission - CTAC Canadian Treatment Action Council "
CTAC

For more HIV and AIDS News visit...

Positively Positive - Living with HIV/AIDS:
HIV/AIDS News