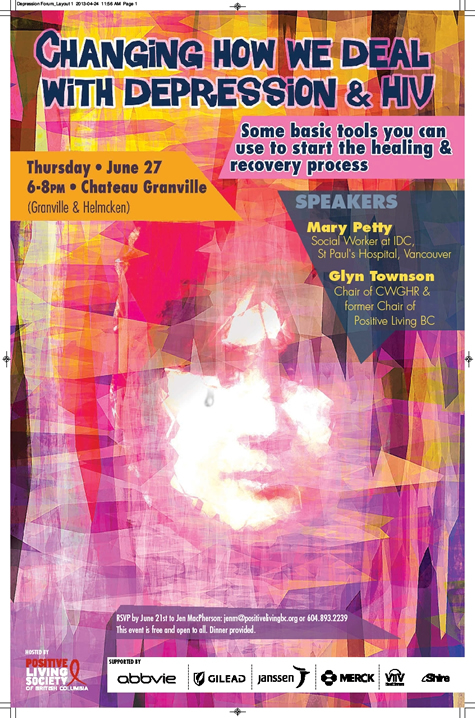 Changing How We Deal With Depression and HIV
Community Forum
Thursday, June 27th, 6-8pm Chateau Granville
This Community Forum will provide you with some basic tools you can use to start the healing and recovery process. All are welcome.
Speakers:
Mary Petty, Social Worker at IDC, St Paul's Hospital
Glyn Townson, Former Chair of Positive Living BC
When: Thursday, June 27th, 6-8pm
Where: Chateau Granville (Granville & Helmcken)
How: RSVP by June 21st to Jen MacPherson: jenm@positivelivingbc.org or 604.893.2239.
Our thanks to support from: Abbvie, Gilead, Janssen, Merck & Viiv Shire
###
Jen MacPherson, RD, MPH
Treatment, Health and Wellness Coordinator
Positive Living Society of BC
1107 Seymour Street, 2nd Floor
Vancouver, BC V6B 5S8
t. 604.893.2239
f. 604.893.2251
1.800.994.2437
www.positivelivingbc.org

About POSITIVE LIVING BC
LIVING BC is dedicated to empowering persons living with HIV/AIDS through mutual support and collective action. We are a Registered Non-profit Society (#11928-2085) and an established leader in the HIV/AIDS movement . Uniquely among major agencies in Canada, the POSITIVE LIVING BC Board of Directors is composed entirely of HIV+ members.

Formerly known as the British Columbia Persons With AIDS Society (BCPWA) and with a membership of more than 4,800 HIV+ members, we are Western Canada's largest AIDS service organization and a proud history spanning three decades. For more information visit: www.positivelivingbc.org
"Reproduced with permission - POSITIVE LIVING BC"
POSITIVE LIVING BC

For more HIV and AIDS News visit...

Positively Positive - Living with HIV/AIDS:
HIV/AIDS News