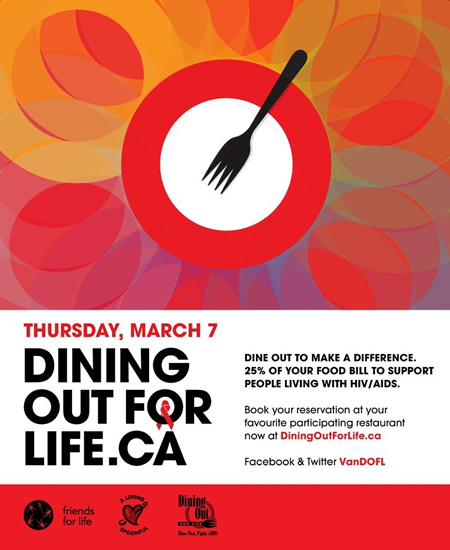 DINING OUT FOR LIFE - Vancouver / Whistler
Dining Out For Life is Back on Thursday, March 7!
DINE OUT TO MAKE A DIFFERENCE. 25% OF YOUR FOOD BILL TO SUPPORT PEOPLE LIVING WITH HIV/AIDS.
Join Friends For Life and 1000s of others from Whistler to White Rock and make your reservations for Dining Out For Life TODAY !
On Thursday, March 7, 2013 , almost 200 participating restaurants will contribute 25% of their food sales from breakfast, lunch and dinner support individuals living with HIV/AIDS at Friends For Life & A Loving Spoonful .
A couple spending $50 at a Dining Out For Life restaurant will provide meals for 4 people through Friends For Life.
This year Dining Out For Life is offering patrons a FREE chance to win 1 of 3 great prize packages at participating restaurants :
A Vancouver Sports Package for 4 including 4 Touchdown End Zone tickets to a regular season BC Lions game, 4 tickets to 2013 Vancouver Giants game and 4 tickets to Vancouver Whitecaps !
Be sure to ask your server for an entry form on Thursday, March 7 !
Book your reservation for at your favorite participating restaurant NOW !
w: www.diningoutforlife.ca | fb: /VanDOFL | tw: @VanDOFL

CONTACT:
Sheena Sargeant
Executive Director | Vancouver Friends For Life Society
The Diamond Centre For Liviing | 1459 Barclay Street | Vancouver | BC | V6G 1J6
p: 604 682 5992 ext 1 | f: 604 682 3592 | e: sheena@friendsforlife.ca
w: friendsforlife.ca | fb & tw: VanFFL
For more HIV and AIDS News visit...

Positively Positive - Living with HIV/AIDS:
HIV/AIDS News