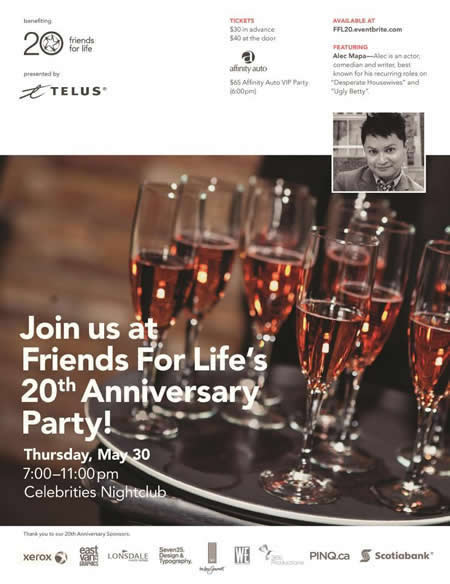 Friends For Life
20th Anniversary Party
Thursday, May 30, 2013
7:00pm until 10:00pm
Friends For Life celebrates 20 years of wellness!
That's right, the Vancouver Friends For Life Society turns 20 this year, and we want to invite you to the party.
Join us in raising a glass at our 20th Anniversary Party presented by TELUS, as we celebrate two decades of bringing care and compassion to those in our community who need it most.
Entertainment will be provided by comedian and actor Alec Mapa, best known for his recurring roles on "Ugly Betty" and "Desperate Housewives". The evening's festivities will be hosted by Alec's "Connie & Carla" co-star Joan-E, with music by DJ Del Stamp.
Tickets $30 in advance
$40 at the door
Affinity Auto VIP Party $65 (6:00pm)
Join us for the Affinity Auto VIP Party! Meet Alec at this exclusive pre-event and enjoy a complimentary cocktail. Only 100 tickets are avilable and are guaranteed to sell out!
Thank you to Celebrities Nightclub for generously providing the venue, Ketel One for beverage sponsorship and Coast Plaza Hotels for accommodation.
Celebrities Nightclub
1022 Davie Street, Vancouver, British Columbia, V6E 1M3
###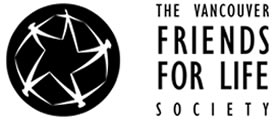 About The Vancouver Friends For Life Society
The Vancouver Friends For Life Society serves as a catalyst to enhance the wellness of individuals living with a life threatening illness by providing complementary and alternative health and support services.

Friends For Life was incorporated in 1993 as a not-for-profit society under British Columbia's Society Act. Friends For Life was started to meet the needs of people confronting the challenges of the 1990s HIV/ AIDS epidemic. Today, Friends For Life provides services to persons with any life-threatening illness including cancer and Hepatitis C.

In 1995 Friends For Life opened the Diamond Centre For Living, North America's only comprehensive wellness centre offering programs and services in a drop-in facility, free-of-charge, to people with life-threatening illness.
www.friendsforlife.ca
FFL needs your help! Here are 2 great ways to donate:
Join the 'Circle of Friends' monthly donation club to build long-term sustainability
Click the 'Donate Online' button on our website to make a 1-time contribution
www.friendsforlife.ca/donating
"Reproduced with permission - The Friends For Life Society"
The Friends For Life Society

For more HIV and AIDS News visit...

Positively Positive - Living with HIV/AIDS:
HIV/AIDS News