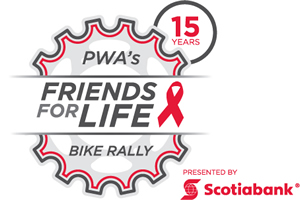 The Friends for Life Bike Rally - Riding Toronto to Montréal for AIDS Awareness
Toronto - Montreal
July 28 - August 2, 2013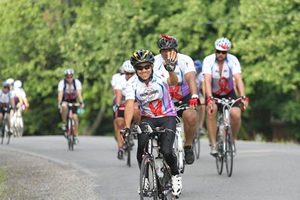 March 2013 - The Friends For Life Bike Rally began in the summer of 1999 by Danny Nashman and David Linton (who, sadly, passed last year). Over $10 Million has been raised over the last 14 years from this annual event. 2013 will mark the 15th anniversary of the Rally and is expected to be its most successful yet.
The Bike Rally is a 6-day ride from Toronto to Montréal benefitting the Toronto People with AIDS Foundation (PWA), which offers essential services to people living with HIV and AIDS in the Greater Toronto Area. Each year, approximately 400 riders and crew make the roughly 450 mile/600 kilometre journey, which culminates in the arrival into Montréal during Divers Cité (one of the the city's Gay Pride celebrations). This year, the Bike Rally celebrates its 15th Anniversary, and expects the largest ride yet, with 375 riders and 125 crew, and a goal to raise $1.4 Million. The Canadian Lesbian and Gay Archives (CLGA) in Toronto will also celebrate this milestone with an exhibit which highlights the timeline of the last 15 years of the Bike Rally, PWA, and the HIV/AIDS epidemic, from March 12th until April 11th.
After the discovery of AIDS in 1983, AIDS Service Organizations formed to address the major trends of the disease: to help prevent the spread of HIV and to care for those dying from AIDS-related illnesses. Within a few years, a new trend emerged: more people were living longer with HIV than were living with full-blown AIDS. In 1986, in response to this emerging trend and frustrated by the public's focus on AIDS prevention, four gay men living with HIV/AIDS began meeting to discuss ways for people living with HIV to stay healthy and live with dignity. They formed a coalition with a mandate to provide practical, direct-support services to people living with HIV/AIDS using a peer-to-peer model. This coalition organized the structure of the Toronto People With AIDS Foundation and, on May 11, 1987, the Foundation was officially organized.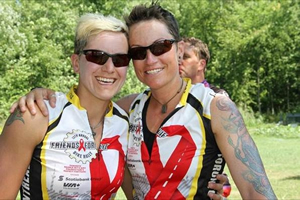 The Bike Rally is PWA's signature event - critical to the agency's ability to provide services to Toronto's HIV-positive community. Riders of all ages and levels of experience, and crew supporting a variety of activities along the route, will unite in their passion to support people living with HIV/AIDS.
This year, the 6-day ride starts early in the morning of Sunday 28th July, in the heart of downtown Toronto, with cheering onlookers witnessing the start of the journey. Day 1 is marked by the busiest roads on the route as riders make their way through the immense metropolis of the Greater Toronto Area through most of the morning, then into the countryside before stopping in Port Hope, Ontario, where riders camp in a lakeshore park.
Days 2 and 3 are a mostly rural journey toward Kingston, Ontario, where riders will camp on the lakeshore again for Day 2 and then overnight at Queen's University dorms for Day 3. Day 3 is also "Red Dress Day" - a familiar tradition on many AIDS rides. Day 4 approaches the Prescott US border crossing in Johnstown, Ontario, which also features the best swimming spot of the ride.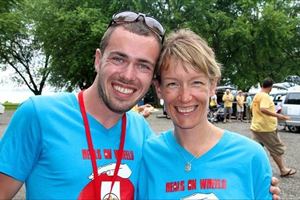 Day 5 is "Poz Day", which gives special recognition to those participants who choose to identify by wearing a red ribbon T-shirt during morning activities, and provides a safe atmosphere for HIV-positive riders to self-identify without stigma. At the end of the day, a candlelight vigil is held on the beaches near Lancaster, Ontario, to reflect on the reason for the ride and represent the hope for a future free of AIDS.
On Day 6 the ride makes its way across the border into Québec, and takes scenic bike paths through the suburbs and into the city before making an emotional arrival in the heart of the Divers/Cité festival. The evening's events include a reception for participants and lodging at Université du Québec à Montréal (UQAM) residences. Riders can return to Toronto on one of two event-reserved VIA trains, or stay longer and experience more of Montréal and depart on their own for wherever home may be.
There is still room to register and join in on this event. Visit BikeRally.Org to register for this historic 15th-anniversary ride as soon as possible, as registration will be limited and expected to fill soon!
###
Are YOU getting involved in the 15th Bike Rally?
Ride Crew Donate Sponsor
bikerally.org
If you would like to make a donation to the Toronto People With AIDS Foundation, consider making a secure online donation at www.pwatoronto.org
CONTACT:
Robert Pierre Tomas, CFRE
Director, Philanthropy & Communications
Toronto People With AIDS Foundation
200 Gerrard Street East, 2 nd Floor
Toronto, ON M5A 2E6
Tel: 416-506-1400 ext. 240
Fax: 416-506-1404
Email: rtomas@pwatoronto.org
www.pwatoronto.org
Reproduced with permission - "Friends For Life Bike Rally"
Friends For Life Bike Rally

For more HIV and AIDS News visit...

Positively Positive - Living with HIV/AIDS:
HIV/AIDS News