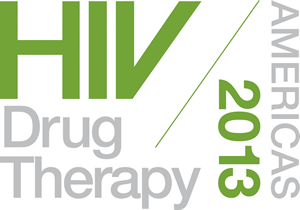 HIV Drug Therapy in the Americas 2013
13 - 15 June 2013
WTC Sheraton Convention Center
São Paulo, Brazil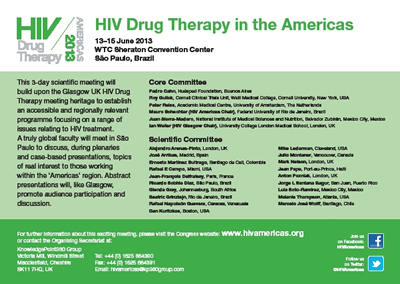 This 3-day scientific meeting will build upon the Glasgow UK HIV Drug Therapy meeting heritage to establish an accessible and regionally relevant programme focusing on a range of issues relating to HIV treatment. A truly global faculty will meet in São Paulo to discuss, during plenaries and case-based presentations, topics of real interest to those working within the 'Americas' region. Abstract presentations will, like Glasgow, promote audience participation and discussion.
Core Committee
Pedro Cahn, Huésped Foundation, Buenos Aires Roy Gulick, Cornell Clinical Trials Unit, Weill Medical College, Cornell University, New York, USA Peter Reiss, Academic Medical Centre, University of Amsterdam, The Netherlands Mauro Schechter (HIV Americas Chair), Federal University of Rio de Janeiro, Brazil Juan Sierra-Madero, National Institute of Medical Sciences and Nutrition, Salvador Zubirán, Mexico City, Mexico Ian Weller (HIV Glasgow Chair), University College London Medical School, London, UK
Scientific Committee
Alejandro Arenas-Pinto, London, UK
José Arribas, Madrid, Spain
Ernesto Martinez Buitrago, Santiago de Cali, Colombia
Rafael E Campo, Miami, USA
Jean-François Delfraissy, Paris, France
Ricardo Sobhie Diaz, São Paulo, Brazil
Glenda Gray, Johannesburg, South Africa
Beatriz Grinztejn, Rio de Janeiro, Brazil
Rafael Napoleón Guevara, Caracas, Venezuela
Dan Kuritzkes, Boston, USA
Mike Lederman, Cleveland, USA
Julio Montaner, Vancouver, Canada
Mark Nelson, London, UK
Jean Pape, Port-au-Prince, Haiti
Anton Pozniak, London, UK
Jorge L Santana Bagur, San Juan, Puerto Rico
Luis Soto-Ramirez, Mexico City, Mexico
Melanie Thompson, Atlanta, USA
Marcelo José Wolff, Santiago, Chile
Registrations Full registration (£)*
Early registration deadline: Up to 8 March 2013 295
Standard registration deadline: 9 March-15 April 2013 370
Late registration deadline: 16 April–31 May 2013 420
Key deadline dates
Abstract deadline: Thursday 28 March 2013
Late-breaker deadline: Friday 12 April 2013
*Reduced rates available for low–middle-income countries according to World Bank classifications (Early £195 Standard £250 Late £310).
For further information about this exciting meeting, please visit the Congress website: www.hivamericas.org
or contact the Organising Secretariat at:
KnowledgePoint360 Group
Victoria Mill, Windmill Street
Macclesfield, Cheshire
SK11 7HQ, UK
Tel: +44 (0) 1625 664390
Fax: +44 (0) 1625 664391
Email: hivamericas@kp360group.com
"Reproduced with permission - HIV in the Americas 2013"
HIV in the Americas 2013

For more HIV and AIDS News visit...

Positively Positive - Living with HIV/AIDS:
HIV/AIDS News