How graphics, sex, and humour saved lives: 30 years of AIDS advocacy in Toronto
The AIDS Committee of Toronto broke new ground and caused many to take offense by going explicit to spread the word on safe sex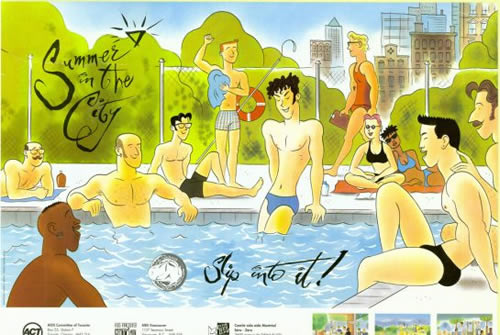 "Slip into it" did not really mean the pool in ACT's beefcakey 1992 graphic titled "Summer in the City."
By: Linda Barnard Movies,
Staff Reporter
Jun 28 2013 - Thirty years ago, the newly named disease called AIDS was just as bewildering as it was terrifying. It was a time of panic in gay communities worldwide, with fear and shaming as rumours often outpaced what limited facts were available, and those who became ill were treated like outcasts destined to die.
The AIDS Committee of Toronto (ACT) was born July 18, 1983, coming out of that turbulence just over a year after the first cases of AIDS were reported in Canada. And one of its first tasks was to find a way to get health messages to the community it served.
It did so with urgency, frank language and images that often sparked outrage at city council and in the community, sexual advocacy and occasional touches of whimsy and humour, like a condom balloon animal or a gay-positive spin on the classic Marlboro ads: "Welcome to Condom Country. Ride Safely."
Graphic in both message and design, the art used on ACT-sponsored posters and brochures over the past 30 years now stands as a visual history of how one community in crisis dealt with AIDS. Pride Week seems a fitting time to look back.
"The issue was to get the basic information out there in ways people could understand," recalled Ed Jackson, former director of education at ACT and now director of program development with CATIE , the Canadian AIDS Treatment Information Exchange.
"We wanted to use language that was explicit and not public health, medical language, we needed to do this in more graphic ways," he said.
That meant talking about sex, how men had sex, ways to make that safer and enjoyable and yes, condoms, which were viewed as akin to a nest of tarantulas by those who considered them hardly a topic of polite conversation and unknown territory for gays who had no need for the birth control devices before.
Trinity-Spadina MP Olivia Chow laughed out loud when she recalled her husband Jack Layton "trying to throw condoms at people," back in the days when the late NDP leader was chair of the Toronto Board of Health.
"He brought condoms home and they were all over the place," said Chow, who as a school trustee in 1986 worked alongside Layton - their first project together, she said - to get condom machines in schools. "I know it seems harmless now, what's the fuss?"
Layton would attend international AIDS meetings "and bring back amazing (AIDS education) posters," she added. "It caught people's imagination, it caught their attention because some of them are very imaginative.
"It was the time of (artist and activist) Keith Haring and so many artists were dying," Chow added. "Art can touch people's lives and change behaviour if done well and you can't shy away from it and you can't censor it. People thought it was too explicit or sending the wrong message."
One of the primary messages on ACT's agenda was clearly displayed in one of its first posters in 1983: "No-Know: Knowledge is the Key to Action." It was a response to the initial reaction to AIDS that meant no to everything sexual.
"All sexual activities were seen as risky . . . we wanted to somehow save the positive aspects of sexuality, that sex wasn't bad," said Jackson. "Safer sex really was an invention of the gay community. Gay men came up with the term."
"I can remember a huge fight (at city hall) because (then-councillor) Chris Korwin-Kuczynski had a pamphlet put out by ACT that advised people who were involved in S&M sex how to protect themselves from HIV and AIDS and he found this to be an outrage," said former city councillor Kyle Rae, now an urban planning consultant, who chaired the AIDS grants committee at the Board of Health from 1991 to 2010.
Rae pointed out the brochure, which showed two men in bondage gear and with the tag line: "Know the ropes," was paid for, like all of the others, through fundraising, much of it done in Toronto's gay bars.
Rae said getting health messages out initially was made difficult by detractors. "They did not like the language; they did not like the outreach and certain segments of society felt AIDS was God's revenge on the gays."
Rae added that "there was desperation on the part of the community prior to 1996," flagging the arrival of the life-extending drug "cocktail" that helped people with HIV delay the onset of AIDS.
"ACT was the leader," he said of its education programs. "It did an amazing job."
Jackson recalled courageous efforts by many who had no background or training in public health but were able to band together to promote education with programs that became models elsewhere.
ACT expanded its reach various communities and cultures, including women - straight, bisexual and lesbian. Once again, posters and pamphlets helped with messaging. And with each campaign, there was the chance to break new ground, even if it wasn't popular.
Lesli Gaynor, who was the first education co-ordinator of the Women and AIDS Project in 1989, said: "I believed there was very little risk," of woman-to-woman transmission and she wanted to help get that message out. A 1993 poster: "A Little Less Latex" helped make the point.
"It was the first targeted campaign at women that stated they weren't at risk, which is why it was controversial," said Gaynor. "The department of health funded it, but refused to distribute it."
"Politicians shouldn't be censoring art. It's freedom of expression," Chow pointed out of some of the battles ACT faced over the years at city hall. "If we can save one life because of these explicit posters or flyers or logos, then it's worth it. It was worth it."
Added Rae: "ACT saved lives. I think in my cohort, I watched thousands of people die and if there hadn't been an agency that was trying to keep sex fun and safe, more of us would be dead."
Source: Toronto Star
"Reproduced with permission - Torstar Syndication Services"
Toronto Star

For more HIV and AIDS News visit...

Positively Positive - Living with HIV/AIDS:
HIV/AIDS News