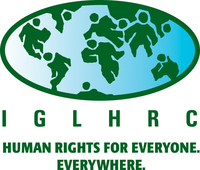 IGLHRC Comments on U.S. Supreme Court Marriage Equality Rulings
IGLHRC Celebrates the Rights of LGBT People
June 26, 2013 - Today, the United States Supreme Court issued two important rulings related to same-sex marriage: Windsor v. United States and Hollingsworth v. Perry. The International Gay and Lesbian Human Rights Commission (IGLHRC) celebrates these rulings for affirming the equality of same-sex marriages and more broadly the rights of lesbian, gay, bisexual and transgender (LGBT) people to full equality before the law.
Statements from the International Gay and Lesbian Human Rights Commission
Jessica Stern, Executive Director, IGLHRC comments:
All couples that so desire, LGBT or straight, should be entitled equally to the concrete benefits and the cultural validation of marriage. Those couples that want to marry, whose lives have been held in limbo while awaiting these decisions have suffered enough. Quite simply, on this historic day we rejoice.

When we talk about liberation of LGBT people and our allies, in the U.S. or anywhere else in the world, we must think in terms that are both basic and ambitious. No one should be arbitrarily arrested, subjected to violence, fired from a job, expelled from school, refused housing or be exiled for who they are or who they love. Everyone should enjoy the right to speak publically and assemble with others, be it at a Pride celebration, queering a space, or simply having a conversation with friends about their vision of equality for themselves and their community.

Yesterday, IGLHRC mourned two other U.S. Supreme Court decisions that treated discrimination itself unequally. The court struck down a key part of the law designed to prevent racist bias in the voting system. Likewise, IGLHRC mourned the court's decision to undermine a U.S. federal law devised to keep Native American families together.

IGLHRC embraces the universality and indivisibility of human rights. We therefore call upon the U.S. government to guarantee full and equal treatment for LGBT and straight relationships under the law, but we also call for the full and equal access of all people to enfranchisement, to family life and to self-determination.

Around the world, the response to Windsor and Hollingsworth is likely to be varied, and the decisions are bound to be perceived in broad terms.

In Iran, the conservative Fars news agency reported " Obama Hailed Supreme Court's Decision in Support of Homosexuals," while another website chose " Obama is in Favor of Moral Decay " for the same story.

In countries where discrimination against LGBT people is high, the decisions are likely to be used dangerously against LGBT individuals, organizations and human rights defenders. The notion of "gay marriage" has been used to discredit local LGBT rights movements accusing them of being Westernized and alleging that LGBT rights, tradition and culture are contradictory. Over the last decade, allegations of "gay marriage agendas" and/or "gay weddings" have been used to crack down on social gatherings attended by LGBT people and to crack down on free speech, assembly, and access to life-saving information on HIV/AIDS.

Conversely, in countries and regions where LGBT partnerships are recognized, for instance increasingly in Latin America, the U.S. Supreme Court decisions may be seen as part of a growing momentum.
Damien Ugwu, Coordinator for IGLHRC's Regional Program in Africa, comments:
Today's Supreme Court ruling in the U.S. may not have direct impact on the lives of LGBTI people within Africa, but it will no doubt further ignite debates on same-sex marriage within the continent. I am concerned that religious fundamentalists and their political allies will move quickly to enact laws that will make it nearly impossible for such court rulings to happen within their countries. (See: " Flames of Homophobia ")
Grace Poore, Coordinator for IGLHRC's Regional Program in Asia, comments:
Advances in marriage equality in the U.S. may have little relevance for many LGBT people in Asia. In countries where homosexuality is criminalized; where laws related to public order, public morality, public decency are used to target LGBT people; and where anti-trafficking and anti-kidnapping laws are misused against lesbians and trans men who elope with their girlfriends, recognizing the rights of LGBT people to marry does not prevent such violations. Marriage "equality" is not a common goal in a region where LGBT people routinely face layers of discrimination.
Maria Gomez, Coordinator for IGLHRC's Regional Program in Latin America and the Caribbean, comments:
In the context of advancing same-sex marriage in Latin America and the Caribbean the U.S. Supreme court decision may impact legal strategies both for and against same-sex marriages in the region. At minimum it will be a source of legal debate for the meaning and notion of equality in those countries that have gained rights through the courts. Importantly, LGBT rights are also progressing at a political level in countries like Argentina and Uruguay, offering models of good practices for other countries in the Americas including the United States.
Hossein Alizadeh, Coordinator for IGLHRC's Regional Program in the Middle East and North Africa, comments:
The LGBT community and allies, as well as homophobic forces, to their advantage, will likely use the complex U.S. Supreme Court's decision on marriage equality. While the LGBT community will claim this as a victory in the global fight for LGBT rights, opponents will argue that while gay rights is being pushed on Muslim societies, there are many 'God fearing and family-oriented' individuals in the West who are dead set against these "aberrations".
Background
Hollingsworth et al v. Perry et al
In 2008, California passed the "California Marriage Protection Act ," commonly known as "Prop 8," which declared, "Only marriage between a man and a woman is valid or recognized in California." When lower federal courts held that Prop 8 violated the U.S. Constitution, proponents of Prop 8, a group of private citizens trying to define marriage as exclusively between a man and a woman, brought the case to the Supreme Court to appeal the lower court decision. Today, the Supreme Court held that those Prop 8 proponents did not have the right to appeal the lower court decision stating, "We have never before upheld the standing of a private party to defend the constitutionality of a state statute when state officials have chosen not to. We decline to do so for the first time here."
In practical terms: same-sex couples will have the legal right to marry in the state of California as they had prior to Prop 8.
United States v. Windsor, Executor of the Estate of Spyer, et al.
In 2009, Edith Windsor was denied access to the spousal exemption of the federal estate tax because her spouse was a woman, resulting in her having to pay $363,053. Windsor challenged Section 3 of the Defense of Marriage Act (DOMA), which defines "marriage" and "spouse" as being between members of "opposite sex." Today, the Supreme Court held that limiting the definition to between a man and woman, "interfere[s] with the equal dignity of same sex marriages."
In practical terms: couples legally married in states that recognize same-sex marriages can no longer be denied the 1100-plus marital benefits and obligations afforded by the federal government.
Regarding the Voting Rights Act
According to The Atlantic , this law was invoked more than 700 times from 1982-2006 to block racist discrimination. The right to vote - for people of color, transgender, homeless, immigrants, and all of us - is fundamental to good governance, democracy, the rule of law, and human rights.
According to Colorlines , "The act was created because of incredibly high rates of white parents adopting Native children.those adoptions sever ties to Native tribes and communities, endangering the very existence of these tribes and nations."
Where Same-Sex Marriage is Legal
From http://wockner.blogspot.com/2013_06_01_archive.html
Same-sex marriage is legal in the Netherlands (2001), Belgium (2003), Canada (2005), Spain (2005), South Africa (2006), Norway (2009), Sweden (2009), Argentina (2010), Iceland (2010), Portugal (2010), Denmark (2012), France (2013), Brazil (2013), Uruguay (starting Aug. 3) and New Zealand (starting in August). It also is legal on the Caribbean island of Saba, a municipality of the Netherlands (2012).
In Mexico, same-sex marriage is available in the Federal District (Mexico City) and in the states of Oaxaca and Quintana Roo. The marriages are recognized nationwide by Supreme Court order. Mexico has 31 states.
In the United States, same-sex marriage is legal in Massachusetts (2004), Connecticut (2008), Vermont (2009), Iowa (2009), New Hampshire (2010), Washington, D.C. (2010), New York (2011), Maine (2012), Maryland (2012), Washington (2012), Rhode Island (starting Aug. 1), Delaware (starting July 1) Minnesota (starting Aug. 1) and California (2008, for four months only, then again in 2013, for good this time, likely starting in July or August). The U.S. has 50 states.
It also is legal within the Coquille Indian tribe in Oregon (2009), within the Suquamish Indian tribe in Washington state (2011), and within the Little Traverse Bay Bands of Odawa Indians in Michigan (2013).
###
Media Contact:
Roberta Sklar June 26, 2013 917-704-6358, rsklar@iglhrc.org
The International Gay and Lesbian Human Rights Commission (IGLHRC) is a leading human rights organization solely devoted to improving the rights of people around the world who are targeted for imprisonment, abuse or death because of their sexuality, gender identity or HIV/AIDS status. IGLHRC addresses human rights violations by partnering with and supporting activists in countries around the world, monitoring and documenting human rights abuses, engaging offending governments, and educating international human rights officials. A non-profit, non-governmental organization, IGLHRC is based in New York, with offices in Cape Town and Buenos Aires. Visit http://www.iglhrc.org for more information
The Mission of the International Gay and Lesbian Human Rights Commission is to secure the full enjoyment of human rights of all people and communities subject to discrimination or abuse on the basis of sexual orientation or expression, gender identity or expression and/or HIV status.
Reproduced with permission - "INTERNATIONAL GAY AND LESBIAN HUMAN RIGHTS COMMISSION (IGLHRC)"
INTERNATIONAL GAY AND LESBIAN HUMAN RIGHTS COMMISSION (IGLHRC)

For more HIV and AIDS News visit...

Positively Positive - Living with HIV/AIDS:
HIV/AIDS News