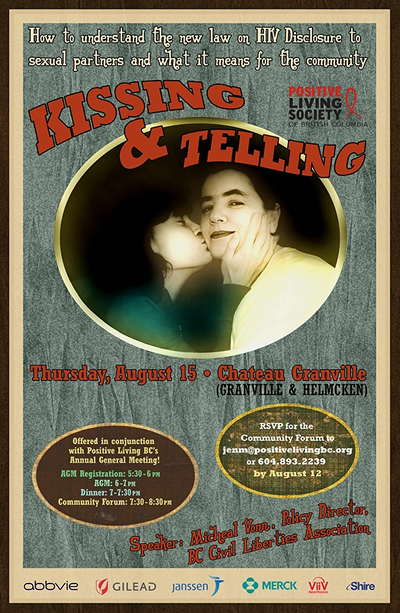 Announcing Positive Living BC's next Community Forum:
Kissing and Telling:
How to Understand the New Law on HIV Disclosure to Sexual Partners and What it Means for the Community
Speaker: Micheal Vonn, Policy Director, BC Civil Liberties Association
When: Thursday August 15th, 2013
Offered in conjunction with Positive Living BC's Annual General Meeting:

AGM Registration: 5:30pm-6pm
AGM: 6:00-7:00pm
Dinner: 7:00-7:30pm
Community Forum: 7:30-8:30pm
Where: Chateau Granville (Granville and Helmcken)
RSVP: for Community Forum here: http://kissingandtelling.eventbrite.ca
Thanks to support from: Abbvie, Gilead, Janssen, Merck & Viiv Shire
*No cost associated with attendance. All are welcome at the forum!
###
Contact:
Jen MacPherson, RD, MPH
Treatment, Health and Wellness Coordinator
Positive Living Society of BC
1107 Seymour Street, 2nd Floor
Vancouver, BC V6B 5S8
t. 604.893.2239
f. 604.893.2251
1.800.994.2437
www.positivelivingbc.org
Like us on facebook | Follow us on twitter



POSITIVE LIVING BC is dedicated to empowering persons living with HIV/AIDS through mutual support and collective action. We are a Registered Non-profit Society (#11928-2085) and an established leader in the HIV/AIDS movement. Uniquely among major agencies in Canada, the POSITIVE LIVING BC Board of Directors is composed entirely of HIV+ members.

Formerly known as the British Columbia Persons With AIDS Society (BCPWA) and with a membership of more than 5,000 HIV+ members, we are Western Canada's largest AIDS service organization and a proud history spanning three decades. www.positivelivingbc.org
"Reproduced with permission - POSITIVE LIVING BC"
POSITIVE LIVING BC

For more HIV and AIDS News visit...

Positively Positive - Living with HIV/AIDS:
HIV/AIDS News