POSITIVE WOMEN:
EXPOSING INJUSTICE
- Sunday, Sept 23 6PM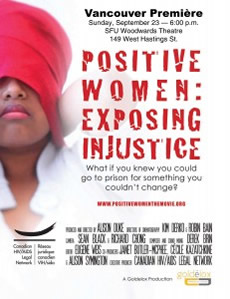 Vancouver, September, 21, 2012 - This weekend, join the Canadian HIV/AIDS Legal Network for our screening of the cutting-edge documentary Positive Women: Exposing Injustice on Sunday, September 23rd at 6pm at the Simon Fraser University Woodwards Theatre.
The documentary explores the impact of criminalization of HIV non-disclosure on positive women in Canada . Their stories are real, raw and from the heart, and tell the truth about what it's like to live in a society that all-too-often criminalizes intimate behaviour between consenting adults and discriminates against those living with HIV.
###
About the Canadian HIV/AIDS Legal Network
Since 1992, the Canadian HIV/AIDS Legal Network ( www.aidslaw.ca ) has been promoting the human rights of people living with and vulnerable to HIV/AIDS, in Canada and internationally, through research, legal and policy analysis, education, and community mobilization. The Legal Network is Canada 's leading advocacy organization working on the legal and human rights issues raised by HIV/AIDS.
For more information:
Janet Butler-McPhee
Director of Communications
Canadian HIV/AIDS Legal Network
jbutler@aidslaw.ca 416-595-1666 ext. 228
416-268-2549 (cell)
Reproduced with permission - "Canadian HIV/AIDS Legal Network"
Canadian HIV/AIDS Legal Network

For more HIV and AIDS News visit...

Positively Positive - Living with HIV/AIDS:
HIV/AIDS News