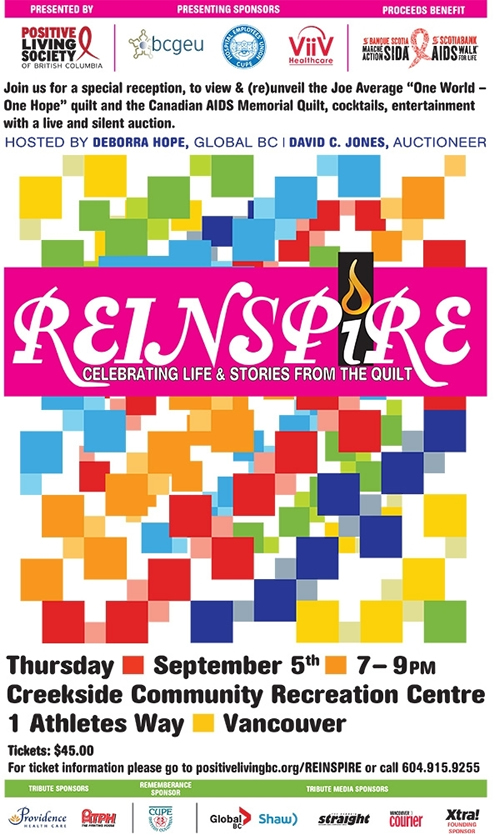 REINSPiRE: Celebrating Life & Stories from the Quilt
Join us September 5th 2013 for REINSPiRE: Celebrating Life & Stories from the Quilt
A Special Reception & Re-Unveiling
of "One World - One Hope" and the NAMES Project - Canadian AIDS Memorial Quilt at the Creekside Community Recreation Centre in Vancouver, BC.
Join us for this special viewing of local panels from the NAMES Project - Canadian AIDS Memorial Quilt and the local " One World - One Hope " quilt created by renowned Vancouver artist Joe Average.
The Canadian AIDS Memorial Quilt is made up of more than 600 three-foot by six-foot panels, each panel created in loving memory of someone who has died of AIDS. We are proud to present several of these original panels (sewn together into 12 foot sections) at REINSPIRE.
The "One World - One Hope" quilt is equally momentous, and uniquely Vancouver. This 350-pound masterpiece by local artist Joe Average measures 29x32 feet and was adapted from his painting that served as the central image for the 1996 International AIDS Conference (IAC) in Vancouver. It was last displayed at the 2006 IAC in Toronto.
REINSPiRE is hosted by Deborra Hope of Global BC, with special guest speakers sharing stories from the Quilt. Our auctioneer is David C. Jones.
Net proceeds benefit Positive Living BC's Complementary Health Fund.
Click on the titles below for more information on each. Or you can contact the folks behind REINSPiRE.
Time: Thursday, September 5th 7PM - 9PM
Where: Creekside Community Recreation Centre, 1 Athletes Way, Vancouver, B.C.
Get your ticket!
Volunteer for REINSPiRE
Sponsors of REINSPiRE
###



POSITIVE LIVING BC is dedicated to empowering persons living with HIV/AIDS through mutual support and collective action. We are a Registered Non-profit Society (#11928-2085) and an established leader in the HIV/AIDS movement. Uniquely among major agencies in Canada, the POSITIVE LIVING BC Board of Directors is composed entirely of HIV+ members.

Formerly known as the British Columbia Persons With AIDS Society (BCPWA) and with a membership of more than 5,000 HIV+ members, we are Western Canada's largest AIDS service organization and a proud history spanning three decades. www.positivelivingbc.org
"Reproduced with permission - POSITIVE LIVING BC"
POSITIVE LIVING BC

For more HIV and AIDS News visit...

Positively Positive - Living with HIV/AIDS:
HIV/AIDS News