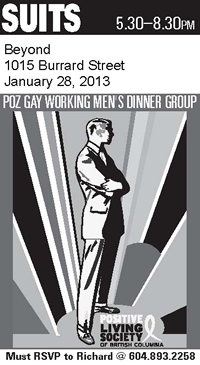 Suits 4th Anniversary
- POZ GAY WORKING MEN'S DINNER GROUP
4th Anniversary of Suits at Beyond in the Century Plaza Hotel
Come out and join other POZ gay working guys for our SUITS 5th Anniversary dinner, January 28th, 5.30 - 8.00 at Beyond, 1015 Burrard Street.
4 courses $32 or check out the dine-out Vancouver special.
Menus:
Beyond Restaurant & Lounge Menu
Beyond Group Menu
RSVP to richardh@positivelivingbc.org
About beyond
This beautiful new 300 seat restaurant is located in the heart of vibrant downtown Vancouver. Beyond is a winning combination of casual elegance, west coast charm and vibrant cuisine. beyond is tactile; it is textures, moods and tones grouped as intimate gathering places. It is layers of color and contrast. It is multi-leveled, with each area and tier having its own distinct persona. beyond is not so much one room as it is a design ecosystem with each area in the restaurant and lounge having a unique ambience, yet each in cohesive harmony with the whole. It is the perfect balance of masculine and feminine, yin and yang. beyond is new for Vancouver. It invites discussion. It transcends before. It goes beyond. It is the next stage in Vancouver's evolution as a dining and entertainment Mecca on the West Coast. It is beyond expectation. It is the great beyond.
Food Philosophy
The food philosophy at beyond is one of inclusive not exclusive. The style is next generation contemporary, where the world is a spice rack but the market garden is next door. The flare is exemplified two ways; taking classic favorites and making them new and irresistible or inventing, using unique combinations and bold presentation to add intrigue and panache to the plate.
Audio Visual
We have an upper section that can seat over 100 guests complete with projectors and screens. The audio visual system throughout is state-of-the-art. No expense has been spared in creating an environment of sight and sound that matches mood or event.
###
SUITS POZ GAY WORKING MEN'S DINNER GROUP
This monthly dinner, takes place at a restaurant in the Vancouver area on the last Monday of each month, and offers working men a chance to build community and combat isolation and stigma. SUITS provides a forum where HIV poz men can meet other professionals, network and have a positive influence on the community.
When: Last Monday evening of every month.
Where: Various locations in the Vancouver area.
RSVP richardh@positivelivingbc.org

SUITS is part of the Positive Living BC Society of British Columbia Support Departments' Wellness Promotion programs.



POSITIVE LIVING BC is dedicated to empowering persons living with HIV/AIDS through mutual support and collective action. We are a Registered Non-profit Society (#11928-2085) and an established leader in the HIV/AIDS movement. Uniquely among major agencies in Canada, the POSITIVE LIVING BC Board of Directors is composed entirely of HIV+ members.

Formerly known as the British Columbia Persons With AIDS Society (BCPWA) and with a membership of more than 5,000 HIV+ members, we are Western Canada's largest AIDS service organization and a proud history spanning three decades.
"Reproduced with permission - POSITIVE LIVING BC"
POSITIVE LIVING BC

For more HIV and AIDS News visit...

Positively Positive - Living with HIV/AIDS:
HIV/AIDS News