New campaign warns of serious disease trending in Vancouver gay community
November 18, 2012 - VANCOUVER, BC - A new campaign developed by Vancouver Coastal Health and and British Columbia Centre for Disease Control (BCCDC) is warning gay and bisexual men that a serious illness is trending within their community.
"Syphilis rates are at epidemic proportions in the Lower Mainland," said Dr. Réka Gustafson, medical health officer, VCH. "In 2012, 371 cases were reported in B.C., and most of them are gay and bisexual men. This is the highest level in 30 years."
The new educational campaign includes posters and a webpage at www.checkhimout.ca/syphilis/. The campaign uses the notion of trending topics in social media to discuss rising syphilis rates in Vancouver.
Syphilis is a highly contagious disease spread primarily by sexual activity-whether it's oral, vaginal or anal sex. If left untreated, syphilis can lead to permanent blindness, hearing loss, deep bone pain and neurological problems, all of which can happen early or late in the course of infection. Severe cases can be fatal.
Community agencies that work with gay and bisexual men including Positive Living B.C., YouthCO, Qmunity and Health Initiative for Men (HIM) were brought together to plan the campaign.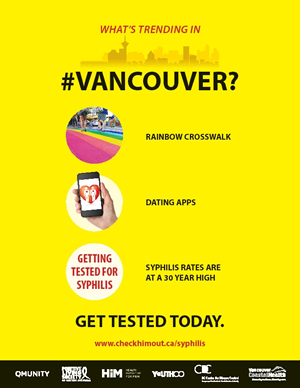 "We're grateful to have collaborated with agencies that work directly with gay and bisexual men," said Chris Buchner, regional director of prevention, VCH. "As a result, this campaign talks about sexual health in a fun way that is positive and non-judgmental."
"This campaign is current, relevant and speaks to men in a way that reflects their lives," said Jody Jollimore, program manager, Health Initiative for Men (HIM). "We know that gay and bisexual men care about their sexual health and when given access to appropriate information, make healthier choices."
"The stats tell the story," said Glenn Doupe, outreach team leader, BCCDC Clinical Prevention Service. "It is urgent for people to get tested regularly. You can have the disease and not know it. Syphilis spreads easily through any form of sexual contact so people also need to be more knowledgeable about safe sex practices."
VCH and BCCDC recommend that men who are sexually active with other men get tested every three to six months. Tests can be obtained at doctor's offices, community health clinics or clinics in local bath houses.
B.C. Centre for Disease Control is an agency of the Provincial Health Services Authority, a specialist in prevention. B.C. Centre for Disease Control provides provincial and national leadership in public health through surveillance, detection, treatment, prevention and consultation services.
-30-
CONTACT:

Tiffany Akins
Communications leader, Communications & Public Affairs
Vancouver Coastal Health
Phone: 604-708-5281
Cell: 604-319-7530
tiffany.akins@vch.ca

#400 520 West 6th Ave
Vancouver, BC V5Z 4H5
Tel: 604.708.5281
Cell: 604.319.7530
E-mail: tiffany.akins@vch.ca
"Reproduced with permission - "Vancouver Coastal Health"
Vancouver Coastal Health

For more HIV and AIDS News visit...

Positively Positive - Living with HIV/AIDS:
HIV/AIDS News