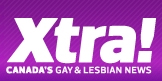 ACT launches education campaign for HIV positive youth
New book tackles issues of safe sex, disclosure
By Justin Ling
June 19, 2013 - A new campaign from the AIDS Committee of Toronto (ACT) is reaching out to a group that hears a lot about prevention, but doesn't hear a lot of what it's like to live with HIV/AIDS.
PozYouth is aimed at the hundreds of young Canadians who have been diagnosed - and those who haven't, yet. The group aims to expand on the increasingly common trope that "it isn't a death sentence anymore," explaining to those who fear that they have nothing to look forward to, that "it isn't a death sentence for your sex life, either."
ACT prepared a book, My Sex Life, to set out the ins-and-out of having a healthy sex life while being positive. "It can be hard to find trusted information that affirms our sexual and romantic desires. This resource addresses that challenge," the book opens.
From 1985 to 2009, more than 500 Canadian children under the age of 15, and about 1,000 from 15 to 19, tested positive for HIV. Meanwhile, 12,000 people between 20 and 29 tested positive, which is about a quarter of the total reported cases. (The Public Health Agency of Canada reported that around 3,000 did not report an age.)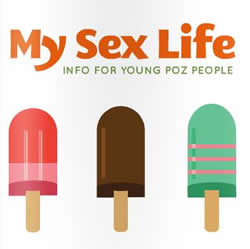 For HIV positive youth, few resources exist to lead them through the bewildering and terrifying situation - and certainly none to show them that sex doesn't end after learning that you're positive. This guide, which is also available in French, is supposed to change that.
"The guide tackles topics young people living with HIV are dealing with and thinking about in their lives," says Michael Schneider, Youth Program Coordinator with ACT. He's hoping that the guide, which was written by positive youth, helps others in "navigating the waters," especially when it comes to sex.
With a look at everything from how to protect a negative partner to having sex with someone with the same HIV status (sero-sorting), the book is a brass tacks look that doesn't sugarcoat the language.
"The importance for this project came from the reality that HIV is still a largely stigmatizing issue in the world, even here in Toronto," says Schneider. He highlighted the need for "having a resource that is both culturally appropriate and a trusted, affirming, up to date source for information."
The book ends by tackling the thorny question of disclosure, noting recent changes that allow HIV-positive people to not disclose if their viral load is low and they use a condom, but underlines that the penalties can be stiff if they do not disclose in other circumstances.
"You may not like what the law says and you may not agree with it. But it's still the law and the consequences can be severe," it reads. "We hope the law evolves in a direction that is less stigmatizing for people living with HIV. We want to be able to protect ourselves and still have hot consensual sex."
For more information go to actoronto.org/mysexlife
###
Source: Xtra - Canada's Gay and Lesbian News
http://www.xtra.ca/public/Toronto/ACT_launches_education_campaign_for_ HIV_positive_youth-13750.aspx
Reproduced with permission - "PINK TRIANGLE PRESS "
PINK TRIANGLE PRESS




About PINK TRIANGLE PRESS
Pink Triangle Press is Canada's leading gay and lesbian media organization. We are one of the most diversified gay media enterprises in the world. Founded in 1971 to advance the struggle for sexual liberation, our defining activity is lesbian and gay journalism. www.pinktrianglepress.com
For more HIV and AIDS News visit...

Positively Positive - Living with HIV/AIDS:
HIV/AIDS News