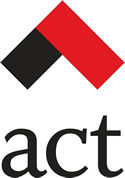 New Executive Director named for ACT
With over 20 years of experience,
John Maxwell named new
ACT Executive Director
Toronto - March 3, 2014 - The Board of Directors of the AIDS Committee of Toronto (ACT) is pleased to announce, following an extensive and thorough search, the appointment of John Maxwell as Executive Director effective immediately. John has over 20 years of experience working at ACT and has been serving as the interim Executive Director since November 2013.
"We are so pleased to announce John as ACT's new Executive Director," says Jamie Slater, Chair of ACT's Board of Directors. "John's history with ACT as well as his knowledge, passion and commitment towards HIV/AIDS education, prevention and support programming are unparalleled. The board is honoured and proud to stand side by side with him as we begin to plan for ACT's next five years and beyond."
Starting at ACT as a volunteer, John began his professional career with the agency in 1991 as a research coordinator for a national study of gay men's HIV knowledge, attitudes and behaviours. From 1998 to 2006, John was ACT's Director of Communications and Community Education, responsible for creating many well-known public awareness campaigns that came to define ACT's excellence in education and prevention, including the well-known and controversial Condom Country campaign that has been recognized internationally. In 2006 John assumed the role of Director of Policy and Communications and was promoted to Director of Programs and Services in 2010 to provide oversight and strategic direction to the agency's prevention, education, outreach, community health and support services initiatives.
In addition to his work at ACT, John has been a leader in the HIV/AIDS movement and has extensive experience in the area of HIV prevention and sexual health promotion. John was recognized for his outstanding accomplishments by the Ontario AIDS Network in 2009 by being named to the OAN Honour Roll for outstanding leadership and achievement within the HIV/AIDS movement in Ontario and by the Canadian Association for HIV Research in 2007 with their Red Ribbon Award for outstanding services to the cause of research in Canada that will lead to increased understanding of the treatment and prevention of HIV/AIDS.John holds a BA in Economics and Public Administration from the University of Toronto and has completed courses in non-profit management at York University's Schulich School of Business.
"I am extremely excited to be moving into the role of Executive Director at ACT. Over ACT's 30 years, our programs and services have continually evolved to meet the changing needs of those living with HIV and the communities most at risk for HIV infection here in Toronto. I look forward to working with the board, staff, volunteers, service users, supporters, and community partners to ensure that ACT remains responsive and relevant."
ACT's board of directors undertook an extensive recruitment process for the hiring of the Executive Director following the departure of Hazelle Palmer in October 2013. After a competitive bid process, the board selected Odgers Berndtson, an executive search firm, to lead a community consultation process that helped to identify the core competencies, values and skills sought after in the new Executive Director.
"Through this hiring process, which included strong applications from leaders from across the HIV/AIDS, health and charitable sectors," says Slater, "John emerged as the strongest candidate who we believe will strategically lead ACT forward through an increasingly complex and changing environment."
Under the direction of the board of directors, the Executive Director is responsible for the overall management and performance of the agency in accordance with its policies, by-laws and strategic plan. The Executive Director works with various stakeholders to refine strategic directions and maintain and build ACT's profile which has been established within the community as the leading AIDS service organization in Canada. As part of this recruitment process, the Executive Director will address funding, branding and programming issues to ensure that ACT is well-positioned to continue to lead the way in terms of HIV/AIDS policy, education, communications and respond to the changing needs of the communities it serves.
###
The AIDS Committee of Toronto (ACT) is a community-based, charitable organization whose mission is to provide support, HIV prevention and education services for people living with and at risk for HIV/AIDS in Toronto. For more information: www.actoronto.org
Since 1983 ACT has developed programs and services that respond to the changing needs of the communities it serves. ACT provides support services that empower men, women and youth living with HIV to achieve self-determination, informed decision-making, independence, and overall well-being. We do this through programs such as counselling, information provision, social support activities and programs that help people with HIV return to work.
Media Contact:
Rafay Agha, Communications Coordinator
AIDS Committee of Toronto (ACT)
Office: 416-340-8484 ext. 225
E-mail: ragha@actoronto.org

Jamie Slater, Chair, Board of Directors
AIDS Committee of Toronto (ACT) 416- 340-8484 ext. 315
"Reproduced with permission - AIDS Committee of Toronto (ACT)"
AIDS Committee of Toronto (ACT)

For more HIV and AIDS News visit...

Positively Positive - Living with HIV/AIDS:
HIV/AIDS News