FDA Recommends Taking HIV Prevention Pill to Uninfected Public
By Susanne Posel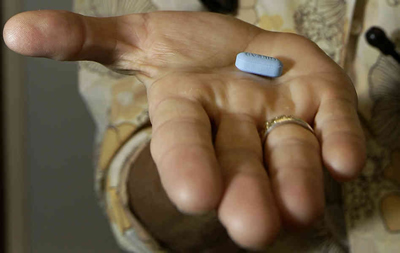 May 18, 2014 - The Food and Drug Administration (FDA) approved Truvada a decade ago for the treatment of HIV. Now the Institutes of Health Allergy and Infectious Diseases (NIH-AID) and the Centers for Disease Control and Prevention (CDC) are recommending that this PrEP pill be taken as a preventative measure.
The CDC and NIH-AID state that for those identified as "at high risk" for contracting HIV/AIDS, Truvada can be taken daily to ward off this virus.
Marketed as a preventative for people who at high risk of contracting HIV through sexual activies, Turvada is supported by public health advocates that believe this pill will slow down the spread of HIV.
In America it is estimated that 1.2 million people have HIV.
With this new antiviral drug, it is proposed that 240,000 HIV carriers will not be able to continue to spread the disease.
Gilead Sciences combined two separate drugs to create Truvada.
The genetic engineering of the preventative is praised by the FDA to answer the assumption that condoms are not effective.
The AIDS Healthcare Foundation requested that the FDA not approve Truvada, citing that the drug would give users a false sense of protection and reduce the uses of condoms which are the most reliable preventative against HIV.
Scientists for the FDA assert that patients on Truvada were not more likely to engage in risky sexual behavior as their studies concluded.
Michael Weinstein, president of AIDS Healthcare Foundation, believes that the FDA's approval of Truvada is a "catastrophe" because studies showed that patients did not take the pill on a regular daily basis and its assertion of effectiveness is questionable.
Weinstein also points out that the public may simply take the pill because of their psychological determination to prevent it. This could result in the production of a drug-resistant strain of HIV coming to fruition.
Anthony Fauci, immunologist and director of the NIH-AID commented: [It's] one that benefits not only the individual patient at risk for HIV infection but also will help to reduce the number of new HIV infections across the United States. It should be used together with - and complementary to - condoms and not as a substitute for condoms."
Jonathan Mermin, director of the CDC National Center for HIV/AIDS, Viral Hepatitis, STD and TB Prevention (NCP) explained: "While a vaccine or cure may one day end the HIV epidemic, PrEP is a powerful tool that has the potential to alter the course of the U.S. HIV epidemic today. These guidelines represent an important step toward fully realizing the promise of PrEP. We should add to this momentum, working to ensure that PrEP is used by the right people, in the right way, in the right circumstances."
The dream of an HIV/AIDS vaccine as a preventative can be traced back to 1984 when Margaret Heckler , US Health and Human Services Secretary predicted that an AIDS vaccine would be available in the US, pharmaceutical corporations like Merck have tried to develop the elusive and highly profitable wonder immunization.
Scientific teams from various institutions like the Scripps Research Institute, the Rockefeller University, NIAID's Vaccine Research Center and Duke University are closely following how they can use the human body's immune system against the array of HIV strains that keep popping up.
###
Contact
Susanne Posel,
occupycorporatism@gmail.com
www.OccupyCorporatism.com
Portland, Oregon, United States
Source: http://www.occupycorporatism.com/home/fda-recommends-taking-hiv-prevention-pill-uninfected-public/
Reproduced with permission - "SUSANNE POSEL | INVESTIGATIVE HEADLINE NEWS "
SUSANNE POSEL | INVESTIGATIVE HEADLINE NEWS

For more HIV and AIDS News visit...

Positively Positive - Living with HIV/AIDS:
HIV/AIDS News