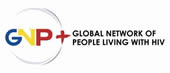 Launch of Community Guide to WHO Guidelines: supporting communities to drive the HIV response
When: Tuesday 22 July 2014, 11.00 - 11.45AM
Where: Press Conference Room 2, Melbourne Convention Centre
Who: Gottfried Hirnschall ( WHO), Suzette Moses-Burton (GNP+), Louise van Deth (STOP AIDS NOW!) , Dr Tetyana Deshko (Alliance Ukraine), Sylvere Bukiki (ITPC West Africa), Teresia Njoki Otieno (ICW)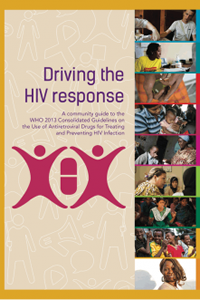 On 22 July, at the International AIDS Conference, the Global Network of People Living with HIV (GNP+), the International HIV/AIDS Alliance and STOP AIDS NOW! will launch a new Community Guide, Driving the HIV response , developed in response to the World Health Organization (WHO) 2013 Consolidated Guidelines on the use of antiretroviral (ARV) drugs for treating and preventing HIV.
Suzette Moses-Burton, Executive Director of GNP+, said, "We are proud to have been involved first in the development of the WHO Guidelines, and now in the creation of this Community Guide. It is only through the involvement of communities and respect for their rights that the ambition of the WHO Guidelines can be realised for people living with HIV."
Gottfried Hirnschall, Director of HIV/AIDS at the WHO, welcomed the Community Guide, "This Community Guide is a practical response to the vision of the WHO Consolidated ARV Guidelines, which recognise the critical role of communities in ensuring the best possible health outcomes for people living with HIV. It is great to see WHO's new recommendations being made more accessible through the simple infographics. WHO will support efforts to disseminate the Community Guide at a country level so that communities can help shape national plans and guide strategic investments in the right kinds of services."
"All over the world people experience the need to understand the WHO treatment guidelines on a daily basis. Our local partners expressed a need for a practical tool to understand and apply the guidelines and this inspired us to develop the Community Guide. In our MaxART programme in Swaziland we are mobilizing the community to take an HIV test, to start ART treatment earlier and to continue in care. This can only be done if they fully understand the national and the global treatment Guidelines." said Louise van Deth, Executive Director of STOP AIDS NOW!.
###
The Community Guide and the 3 accompanying infographics summarizing key new WHO recommendations are all available at:
www.gnpplus.net/communityguide
www.aidsalliance.org/communityguide
www.stopaidsnow.org/community-guid e
For more information, please contact:
GNP+: Victoria Clarke, External Relations & Communications Officer vclarke@gnpplus.net ; +27 79 858 4477
International HIV/AIDS Alliance: Ann Noon, Media Manager
anoon@aidsalliance.org ; +44 (0)7950 358391
STOP AIDS NOW!: Saskia Gaster, Press Officer
sgaster@aidsfonds.nl , sgaster@stopaidsnow.nl , sgaster@soaaids.nl ; +31(0)651171518
Source: The Global Network of People living with HIV (GNP+)
The Global Network of People living with HIV (GNP+) is the global network for and by people living with HIV. GNP+ advocates to improve the quality of life of people living with HIV. Driven by the needs of people living with HIV worldwide, GNP+ supports people living with HIV through their organisations and networks. GNP+ works to ensure equitable access to health and social services, by focusing on social justice, rights and more meaningful involvement of people living with HIV in programme and policy development - the GIPA principle. www.gnpplus.net
"Reproduced with permission - Global Network of People living with HIV (GNP+)"
Global Network of People living with HIV (GNP+)

For more HIV and AIDS News visit...

Positively Positive - Living with HIV/AIDS:
HIV/AIDS News