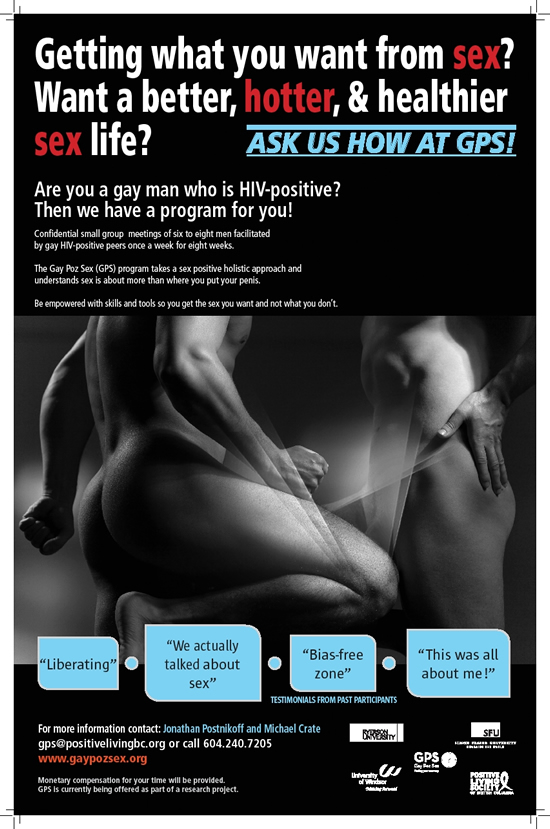 Gay Poz Sex:
Getting what you want from sex?
Want a better, hotter and healthier sex life?
Ask us how at GPS!
Are you a gay many who is HIV-positive?

Then we have a program for you!

Confidential small group meetings of six to eight men facilitated by gay HIV-positive peers once a week for eith weeks.

The Gay Poz Sex (GPS) program takes a sex positive holistic approach and understands sex is about more than where you put your penis.

Be empowered with skills and tools so you get the sex you want and not what you don't
For more information contact:
Jonathan Postnikoff and Michael Crate
gps@positivelivingbc.org
Call 604-240-7702
gaypozsex.org
Monetary compensation for your time will be provided.
GPS is currently being offered as part of a research project.
###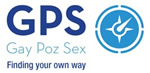 About GPS
A sexual health program for gay and bisexual HIV+ men facilitated by gay, HIV+ men.
"Reproduced with permission - Gay Poz Sex (GPS)"
Gay Poz Sex (GPS)

For more HIV and AIDS News visit...

Positively Positive - Living with HIV/AIDS:
HIV/AIDS News