Gay Poz Sex:
What To Expect In The 8 Week Sessions & Confidentiality
March 29, 2014
Gay Poz Sex (GPS) is an eight-week program by and for gay and bisexual HIV-positive men that aims to shift the ways they talk and think about sex by providing a safe space for them to talk about their sex lives. While the program focuses on sexual health, it isn't limited to HIV: the program also covers information about sexually transmitted infections, the current legal issues concerning HIV disclosure, and focuses on how men can find their own way to hotter and healthier sex.
At the heart of the GPS program is the peer-facilitated process of clarifying and working toward a sexual health goal. A foundational belief is that sexual health includes having great sex-not just talking about it-and the goal of the program is to help participants find what that looks like for them, no matter what that might be. A healthier sex life connects to other parts of people's daily lives, like social, mental, and physical stresses.
Currently, GPS is being offered as part of a research study to determine the impact of the GPS program in participants' lives. Information about the research is available here.
###
Vancouver Contact
Jonathan Postnikoff and Michael Crate
Peer Facilitators
gps@positivelivingbc.org
Call 604-240-7702
gaypozsex.org

Toronto Contact
Rick & Scott
Peer Facilitators
416-340-8484 x277
Rick at gro.otnorotca@neilujr or
Scott at gro.otnorotca@nospmiss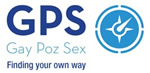 About GPS
A sexual health program for gay and bisexual HIV+ men facilitated by gay, HIV+ men.
"Reproduced with permission - Gay Poz Sex (GPS)"
Gay Poz Sex (GPS)

For more HIV and AIDS News visit...

Positively Positive - Living with HIV/AIDS:
HIV/AIDS News