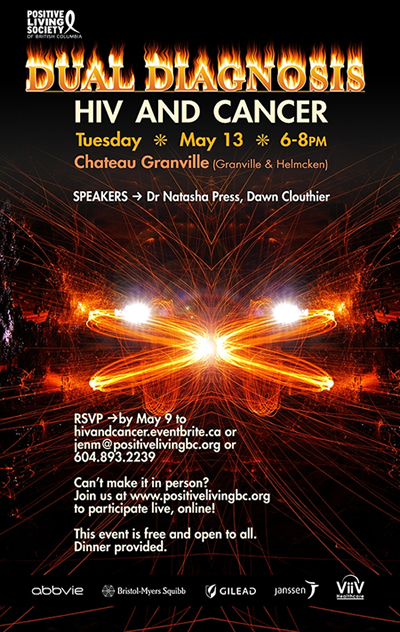 DUAL DIAGNOSIS:
HIV AND CANCER
Tuesday * May 13 * 6-8PM
Join us for a Positive Living BC forum exploring both medical and lived experience perspectives on HIV and cancer: Dual Diagnosis: HIV and Cancer.
Speakers: Dr. Natasha Press, Dawn Clouthier
When: Tuesday, May 13, 6-8 pm
Where: Chateau Granville (Granville & Helmcken)
RSVP by May 9 to hivandcancer.eventbrite.ca or jenm@positivelivignbc.org or 604-893-2239
This event is Free and open to all. Dinner provided.
About our Speakers:

NATASHA PRESS works as an infectious diseases physician at St. Paul's Hospital. She graduated from the University of Toronto Medical School (1995), and completed her residency training in internal medicine and infectious diseases at the University of British Columbia. Following that, she did a research fellowship in HIV clinical trials with the Canadian HIV Trials Network. She is the program director of UBC's Infectious Diseases training program, and currently runs the anal dysplasia clinic at St. Paul's Hospital.

DAWN CLOUTHIER is the former secretary-treasurer and current chair of the Board of Vancouver Island PWA Society. She has completed the Positive Leadership Development Institute core leadership training as well as other training in communications, mental health, addictions, and counselling. She has experience in public speaking, writing for Positive Living Magazine, and has even done standup comedy on her experience with cancer.
This event is made possible thanks to support from Abbvie, Bristol Myers Squibb, Gilead, Janssen, & Viiv.
###



POSITIVE LIVING BC is dedicated to empowering persons living with HIV/AIDS through mutual support and collective action. We are a Registered Non-profit Society (#11928-2085) and an established leader in the HIV/AIDS movement. Uniquely among major agencies in Canada, the POSITIVE LIVING BC Board of Directors is composed entirely of HIV+ members.

Formerly known as the British Columbia Persons With AIDS Society (BCPWA) and with a membership of more than 5,000 HIV+ members, we are Western Canada's largest AIDS service organization and a proud history spanning three decades.
"Reproduced with permission - POSITIVE LIVING BC"
POSITIVE LIVING BC

For more HIV and AIDS News visit...

Positively Positive - Living with HIV/AIDS:
HIV/AIDS News