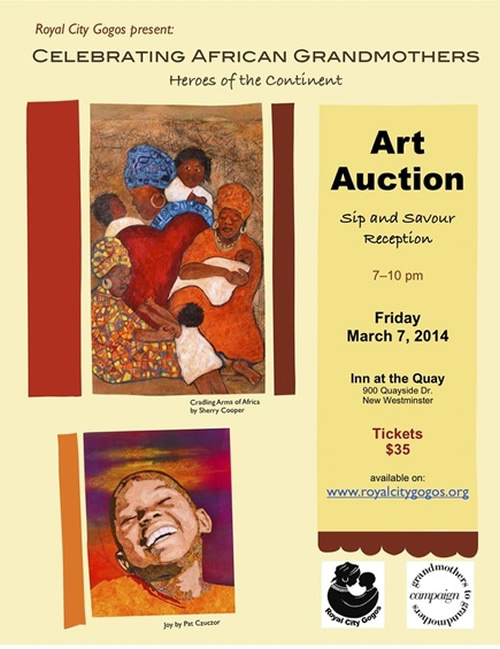 Royal City Gogos present
Celebrating African Grandmothers,
Heroes of the continent:
ART AUCTION
Tickets are selling fast!
Royal City Gogos invite you to attend Celebrating African Grandmothers, Heroes of the continent ART AUCTION. The Royal City Gogos have undertaken a huge challenge. We invited artists to donate works of art in an homage to African Grandmothers. Eighty-three works were submitted and forty were selected by a jury to form an exhibition entitled Celebrating African Grandmothers, Heroes of the Continent.
Friday March 7, 2014
7 - 10 pm
Inn at the Quay
900 Quayside Drive
New Westminster BC

$35
Coctial Reception
No host bar
Live and Silent Auctions
Cash or cheque sales preferred

Forty juried works of art have toured fourteen cities. The collection includes paintings, sculptures, textile art and collage.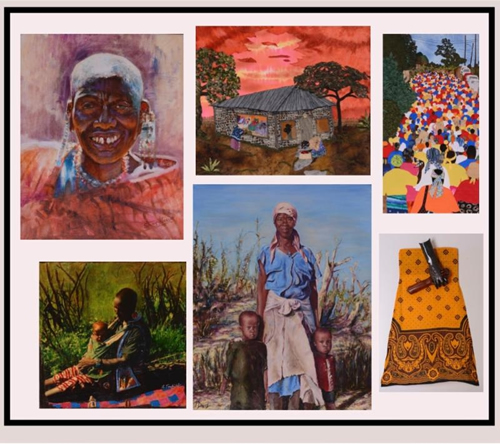 Can't attend the auction? You can still support African grandmothers and the children in their care.
Click the links below


BID ON THE ART ONLINE UNTIL FEBRUARY 28

REGISTER TO BID BY PHONE DURING THE AUCTION

DONATE TO THE GRANDMOTHERS CAMPAIGN

The money we raise will go directly to support the inspiring transformation in sub-Saharan Africa, where community-based organizations are working to turn the tide of AIDS.
With almost no support, grandmothers have stepped forward to care for millions of children orphaned by AIDS, sometimes as many as ten to fifteen in one household. They display astonishing reserves of love, courage and emotional resilience, even while grieving the loss of their own adult children.
THE EXHIBITION IS ON DISPLAY IN VANCOUVER IN FEBRUARY

CLICK HERE FOR DETAILS
###
Gogo is a Zulu word for grandmother. The Royal City Gogos, based in New Westminster B.C., is part of a national movement of grandmothers and "grand others" that form the Grandmothers to Grandmothers Campaign of the Stephen Lewis Foundation.
The Royal City Gogos is a group of almost 50 women ranging in age from 50 - 80 plus. We are united by our concern for African grandmothers and the children in their care and we want to make a difference. We host several fundraising events each year. These events involve everything from growing sunflower seedlings to hosting home parties, textile shows, or a Scrabble game. Royal City Gogos are part of a regional network of 25 groups that make up the Greater Van Gogos. The region stretches from Powell River to Chilliwack. You will find a group in your area! Visit www.royalcitygogos.org
Reproduced with permission - "Royal City Gogos "
Royal City Gogos

For more HIV and AIDS News visit...

Positively Positive - Living with HIV/AIDS:
HIV/AIDS News