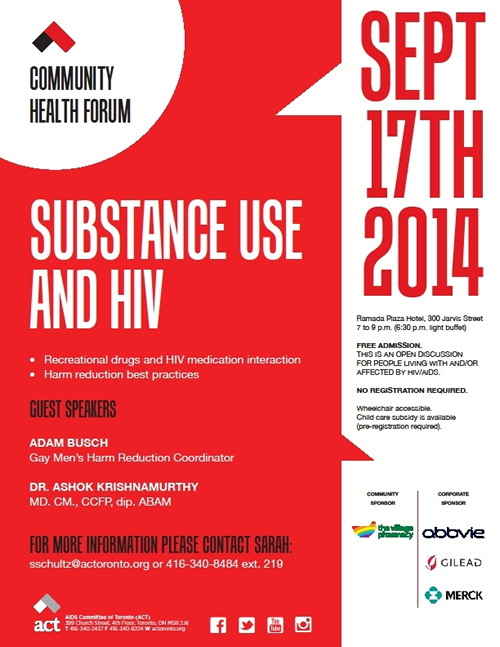 COMMUNITY HEALTH FORUM
SUBSTANCE USE AND HIV
SEPTEMBER 17 2014
Recreactional drugs and HIV medication interaction
Harm reduction best practices
Guest Speakers
Adam Busch
Gay Men's Harm Reduction Coordinator
Dr. ASHOK KRISHNAMURTHY
MD.CM. CCFP, dip.ABAM
When: September 17, 2014.
7 - 9PM ( 6:30 PM light buffet)
Where: Romada Plaza Hotel, 300 Jervis Street, Toronto, Ontario
FREE ADMISSION
THIS IS AN OPEN DISCUSSION FOR PEOPLE LIVING WITH AND /OR AFFECTED BY HIV/AIDS
NO REGISTRATION REQUIRED
Wheelchair accessible. Child care subsidy is available (pre-registration required)
FOR MORE INFORMATION CONTACT SARAH:
sschultz@actoronto.org or 416-340-8484 ext. 219
###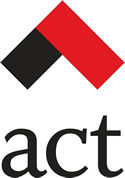 The AIDS Committee of Toronto (ACT) is a community-based, charitable organization whose mission is to provide support, HIV prevention and education services for people living with and at risk for HIV/AIDS in Toronto. For more information: www.actoronto.org
Since 1983 ACT has developed programs and services that respond to the changing needs of the communities it serves. ACT provides support services that empower men, women and youth living with HIV to achieve self-determination, informed decision-making, independence, and overall well-being. We do this through programs such as counselling, information provision, social support activities and programs that help people with HIV return to work.
Media Contact:
Sarah Schultz
Community Programming Coordinator
AIDS Committee of Toronto (ACT)
399 Church Street, 4th floor
Toronto, Ontario, Canada
M5B 2J6
416 - 340 8484 ex 219
fax: 416-340-8224
http://www.actoronto.org
http://www.facebook.com/ACToronto
http://www.twitter.com/ACToronto
http://www.youtube.com/AIDSCommitteeToronto
"Reproduced with permission - AIDS Committee of Toronto (ACT)"
AIDS Committee of Toronto (ACT)

For more HIV and AIDS News visit...

Positively Positive - Living with HIV/AIDS:
HIV/AIDS News