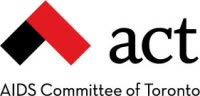 Doctors and HIV/AIDS activists urge Ontario to provide HPV vaccine for boys and men
June 24, 2015 - A group of Ontario physicians, academics, researchers and community groups are calling on Dr. Eric Hoskins, Ontario's Minister of Health, to implement the recommendations provided by the National Advisory Committee on Immunization (NACI) and its own Provincial Infectious Diseases Advisory Committee – Immunization (PIDAC-I) to immunize males to prevent HPV-associated cancers. (Public letter sent to Dr. Hoskins re: HPV Vaccination.)
On June 25th, in the spirit of Pride Week, several young gay men will show their support for the Protect Men & Boys from HPV ( Facebook , Twitter ) campaign, including Mathieu Chantelois, the Executive Director of Pride Toronto, and Aaron GlynWilliams, Co-Chair of the Board of Directors for Pride Toronto and Senior Manager, External Partnerships for the Toronto 2015 Pan/Parapan American Games, by receiving vaccinations at Toronto's Hassle Free Clinic. Like other gay men in Ontario, they'll pay $200 for two doses, but they shouldn't have to.
Media are invited to attend the event. Spokespersons will be available.
Hassle Free Clinic
66 Gerrard St. E.,
Toronto
June 25th
9:30 a.m.
"As concerned scholars, providers and community members we are disappointed that the Minister has not taken a more proactive stance to reduce the possibility of hundreds of potential HPV transmissions," says David Brennan, Professor of Social Work at U of T. "We are particularly concerned for gay men and those living with HIV who may be at greatest risk." Brennan and his colleagues have established have established a change.org petition and are asking Ontarians to sign on.
Human papillomavirus (HPV) poses a serious health problem for gay men, causing 80-90% of anal cancers, 40-50% of penile cancers, and 35% of oral cancers. Right now, the HPV vaccine is provided free to girls in Ontario schools. We believe that all boys in Ontario as well as adult men at high risk for contracting HPV should receive the vaccine as well.
"HPV cancers in men are as common as cervical cancer in women," says Dr. Irving Salit, Professor of Medicine at the University of Toronto and a specialist in Internal Medicine and Infectious Diseases who leads large research studies on HPV and anal cancer screening. "The HPV vaccine is recommended for the prevention of HPV ano-genital warts and cancers in men, but it is not publically funded. What if the HPV vaccine were recommended for women, but only publically funded for men?"
Evidence here and in other countries clearly demonstrates the cost effectiveness and fundamental equity in providing the HPV vaccine to boys and young men. The government is only saving money in the short term and will pay down the road to treat cancers that can now be avoided.
John Maxwell, Executive Director of the AIDS Commitee of Toronto, says: "Ontario has fallen behind other jurisdictions in Canada – such as Alberta, Nova Scotia and Prince Edward Island -- that already fund HPV immunizations for men. If I were a young man today, gay or straight, I would expect the government of Ontario to provide the same protection for me as it provides for girls and young women – protection from HPV-related cancers."
Rates of HPV are disproportionately high among men who have sex with men.
HPV causes cancer and substantial morbidity in men.
HPV is associated with HIV transmission
HPV is preventable
Public funding of HPV immunization for boys and MSM will save money.
###
About ACT
The AIDS Committee of Toronto (ACT) has been a respected leader in the HIV field for over thirty years and is currently the largest AIDS service organization in Canada. Visit actoronto.org for more information.
Media Contact
Chris Thomas
Communications Coordinator
AIDS Committee of Toronto (ACT)
416-340-8484 ext. 225
Email: cthomas@actoronto.org
"Reproduced with permission - AIDS Committee of Toronto (ACT)"
AIDS Committee of Toronto (ACT)

For more HIV and AIDS News visit...

Positively Positive - Living with HIV/AIDS:
HIV/AIDS News