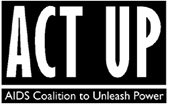 ACT UP DEMANDS GOV. CUOMO RELEASE BLUEPRINT TO END AIDS IN NEW YORK
AIDS Activists Stage April Fools' Day Demonstration at Gov. Cuomo's NYC Office.
"No more delays. Let's get to work ending the AIDS Epidemic!" Activists say.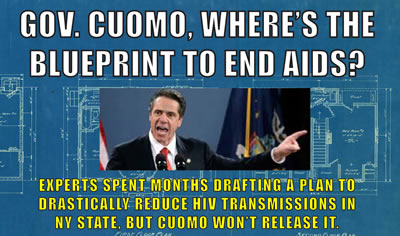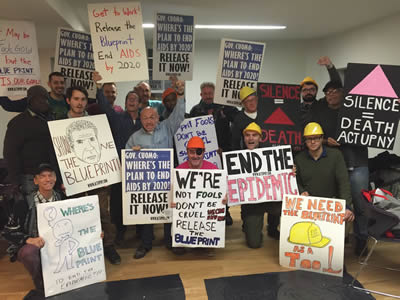 WHAT: ACT UP Demands Andrew Cuomo Keep His Promise to End AIDS in NYS
WHEN: Wed, April 1st, 12-1 PM
WHERE: 633 Third Ave between 40th and 41st St.
EVENT: https://www.facebook.com/events/801793346565498/
NEW YORK CITY, MARCH 31, 2015 - On April Fool's Day, ACT UP New York and allies will stage a demonstration outside the New York City office of Governor Andrew Cuomo to demand the release of the Ending the AIDS Epidemic Blueprint at a public event in Albany without delay. The group has committed to escalating, bi-weekly demonstrations until the Governor releases the Blueprint to End the AIDS Epidemic in New York State by 2020.
A growing number of AIDS activists have become frustrated by the Governor's recent delays. In June 2014, Governor Andrew Cuomo announced a three-part plan to end the AIDS epidemic in New York State and committed to the goal of decreasing the number of new HIV infections per year from more than 3,000 to fewer than 750 by the year 2020. In October 2014, Governor Cuomo appointed a Task Force of 63 HIV experts and community leaders and asked them to create a viable Blueprint to End the AIDS Epidemic in New York State by 2020. The Task Force delivered the Blueprint on time, in mid-January 2015, but over sixty days later with the FY 2015-16 budget soon to be voted on, Governor Cuomo has still not publically released the Blueprint.
Activists requested at least $20 million as a down payment on the multi-year plan for reducing HIV transmissions, but the current budget agreement only allocates $10 million for the initiative. "An investment of $20 million is a drop in the bucket when it comes to the New York State budget, and without it, the Ending the AIDS Epidemic Blueprint could stumble at the start," said ACT UP member Terri Wilder. Investing in reducing new HIV infections to below 750 by the year 2020 would not only save lives and avert many thousands of new infections, but would also achieve more than $4.5 billion in savings in healthcare spending.
ACT UP New York will be holding a demonstration and press conference on April 1st, 2015 at noon at Governor Cuomo's New York City office (located at 633 Third Avenue New York, New York 10016). The activist group has invited fellow New Yorkers and concerned community members to take a stand at this critical moment to tell Governor Cuomo: It might be April Fools' Day, but the people of New York State will not be fooled. Release the Blueprint as you promised to meet the goal of ending AIDS in New York State by 2020!
Jim Eigo, a member of the Task Force to End the AIDS Epidemic by 2020 and member of ACT UP said, "Ending the epidemic in New York State will require the political will of our elected officials, the mobilization of state and local health departments, the engagement of the communities that have been most affected by HIV, and the cooperation of average New Yorkers."
###
About ACT UP:
Founded in 1987, ACT UP (AIDS Coalition to Unleash Power), is a diverse, non-partisan group of individuals united in anger and committed to direct action to end the AIDS crisis. ACT UP meets every Monday night at 7pm in New York City at the LGBT Community Center, 208 West 13th Street off 7th Ave. www.actupny.org
Source: AIDS Coalition to Unleash Power (ACT UP)
For Media Inquiries,
Contact:
ACTUPNY.com
Luis Santiago 917.655.7347
Brandon Cuicchi 646.284.2948
https://www.facebook.com/actupny/
"Reproduced with permission - AIDS Coalition to Unleash Power (ACT UP)"
AIDS Coalition to Unleash Power (ACT UP)

For more HIV and AIDS News visit...

Positively Positive - Living with HIV/AIDS:
HIV/AIDS News