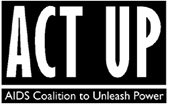 AIDS ACTIVISTS PRESS HRC ON UPPING EFFORTS TO FIGHT HIV
February 11, 2015 – New York, NY – The AIDS Coalition To Unleash Power (ACT UP) released the text of an open letter to Human Rights Campaign (HRC) as a follow up to its protest of HRC´s gala held on January 31 at the Waldorf Astoria Hotel in New York City.
ACT UP´s open letter to HRC demands more involvement by the nation's largest LGBT organization in the fight against HIV by funding community groups and establishing a liaison to support and coordinate with their work.

ACT UP also asks HRC´s President Chad Griffin to establish a procedure to give follow up to its demands, in light of a meeting that ACT UP´s representatives held with HRC´s Vice-president the day before the protest.

"We need HRC´s support on PrEP (Pre-Exposure Prophylaxis), but also on general HIV prevention and stigma, as well as critical issues like LGBT youth homelessness" said ACT UP member Andrew Velez.
Luis Santiago said, "A good place to start would be for HRC to urgently commit its support for the Ending the Epidemic by 2020 Campaign in New York State, in order to ensure the Governor and Legislature follow through with pledged support and appropriate funding."

ACT UP´s demands include protecting the Ryan White Act, implementing the National Strategy on HIV, guaranteeing access to PrEP via the Affordable Care Act, and other issues affecting LGBT and HIV positive persons, like blood donation, access to organ transplants and to treatment for Hepatitis C.

"HRC needs to work with community groups to guarantee access to HIV prevention and treatment in non-traditional settings and populations through syringe exchange, access for sex workers and prisoners, decriminalizing the possession of condoms and repealing the Helms Amendment to allow for effective sex education," said ACT UP member Brandon Cuicchi.

ACT UP has asked for more transparency both in HRC´s financial support in the fight against HIV and in its corporate fundraising strategies.

ACT UP asks that HRC incorporate a reference to HIV discrimination in its Corporate Equality Index by 2016, rank corporations based on their contributions to the fight against HIV/AIDS and consider the disparate impact of a lot of corporate behavior on particularly vulnerable LGBT communities.
ANNEXES - Open letter from ACT UP NY to Human Rights Campaign + Letter to Chad Griffin
###

About ACT UP: Founded in 1987, ACT UP (AIDS Coalition to Unleash Power), is a diverse, non-partisan group of individuals united in anger and committed to direct action to end the AIDS crisis. ACT UP meets every Monday night at 7pm in New York City at the LGBT Community Center, 208 West 13th Street off 7th Ave. www.actupny.org
Source: AIDS Coalition to Unleash Power (ACT UP)
For Media Inquiries,
Contact:
ACTUPNY.com
Brandon Cuicchi,
(646) 284-2948
"Reproduced with permission - AIDS Coalition to Unleash Power (ACT UP)"
AIDS Coalition to Unleash Power (ACT UP)

For more HIV and AIDS News visit...

Positively Positive - Living with HIV/AIDS:
HIV/AIDS News