Pan-Canadian Pharmacare Pre-Election Campaign Community Toolkit
September 3, 2015 - CTAC is pleased to share with you our new Pan-Canadian Pharmacare Pre-Election Campaign Community Toolkit. This toolkit, created in conjunction with YouthCO, is intended for organizations and individuals who want to support the call to make the need for a national drug plan an election issue. The Toolkit is available in French and English.
To CTAC, pan-Canadian pharmacare means that people regardless of where they live in Canada or their socioeconomic status can access the same high quality treatment options through one simplified mechanism. The term "pan-Canadian" recognizes that a universal national plan is needed, while taking account of the current reality of overlapping provincial, territorial and federal jurisdiction in relation to drug access, including reimbursement by public drug plans for costs incurred by individuals for medications or treatments.
The Community Toolkit contains key messages, ready-to-go social media messaging, links to other campaigns and resources, and a letter to party leaders urging them to commit to a pan-Canadian pharmacare strategy.
Access to prescription medications matters for all Canadians. 'Get your vote on', and vote for pan-Canadian pharmacare.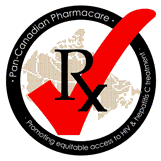 View the campaign webpage français
Direct link to the Toolkit (PDF) français
###
CTAC:
CTAC is Canada's national, non-governmental organization led by and for people living with HIV and viral hepatitis co-infection, focusing on enabling access to treatment. We have been meaningfully engaging community members, service providers, policymakers and other relevant stakeholders to identify, develop and implement policy and program solutions since 1996. We understand that treatment access should be considered in its holistic form, encompassing the range of treatment, care and support needs required to reach the most successful treatment experience possible for people living with HIV or those co-infected with viral hepatitis. http://ctac.ca/home
Contact:
MELISSA POTVIN
Bilingual Communications Coordinator
Coordonnatrice aux communications bilingue


555 rue Richmond Street West/Ouest Suite/bureau 612 Toronto, Ontario M5V 3B1 Ph/Tél: 1-877-237-2822, ext./poste 222 / 416-410-6538, ext./poste 222 Fax/Téléc: 416-410-1369
"Reproduced with permission - CTAC"
CTAC

For more HIV and AIDS News visit...

Positively Positive - Living with HIV/AIDS:
HIV/AIDS News