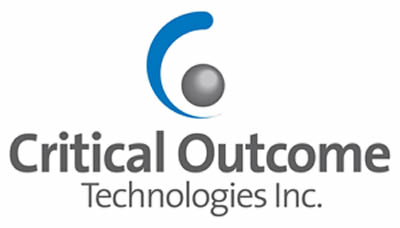 Critical Outcome Technologies Receives First U.S. Patent for Next Generation HIV Treatment
Second Generation HIV Integrase Inhibitor Compounds Discovered Using Proprietary Drug Discovery Platform Technology, CHEMSAS®
London, Ontario (April 15, 2014): Critical Outcome Technologies Inc. ("COTI" or the "Company") (TSX Venture: COT; OTCQB: COTQF), announced today that it has been granted a U.S. patent for the Company's novel HIV integrase inhibitor compounds.
"This important patent is our first for the treatment of HIV and validates our research as we look to identify the lead compound to advance through preclinical development," said Dr. Wayne Danter, President and CEO of COTI. "The highly novel compounds covered by this patent were discovered using our proprietary drug discovery platform technology, CHEMSAS®. Once selected, the final lead compound will be developed as a second generation HIV integrase inhibitor with a unique mode of action that differentiates it from current integrase inhibitor programs in the market or in development."
United States Patent No. 8987272 covers novel compounds useful in the treatment of HIV and methods of treating HIV using the compounds. The patent provides coverage for these compounds and methods until the year 2031. Equivalent patents are pending in Canada and Europe.
The Company is currently looking for a licensing or co-development partner for this preclinical program.
For additional information pertaining to this announcement, please visit our blog at www.criticaloutcomeblog.com/blog-posts
About Critical Outcome Technologies Inc. (COTI)

COTI is formed around a unique computational platform technology called CHEMSAS(R), which allows for accelerated identification and optimization of targeted small molecules potentially effective in the treatment of human diseases for which current therapy is either lacking or ineffective. COTI is focused on preparing its lead anti cancer compound, COTI-2, for an Investigational New Drug filing in the USA in 2011. In addition to COTI-2, the company has a significant preclinical pipeline targeting large market opportunities such as: small cell lung and colorectal cancer, adult acute leukemia and other cancers, multiple sclerosis, HIV integrase, and Alzheimer's disease. For further information, visit www.criticaloutcome.com.
###
CONTACT:

Dr. Wayne Danter
President & CEO
Tel: 519-858-5157
Email: wdanter@criticaloutcome.com
Source: Critical_Outcome_Technologies_Inc_HIV_patent_final.pdf
"Reproduced with permission - Critical Outcome Technologies Inc. (COTI)"
Critical Outcome Technologies Inc. (COTI)

For more HIV and AIDS News visit...

Positively Positive - Living with HIV/AIDS:
HIV/AIDS News