Press Release
Joan Rivers To Be Honored At Steve Chase Gala
Saturday, February 7 at Palm Springs Convention Center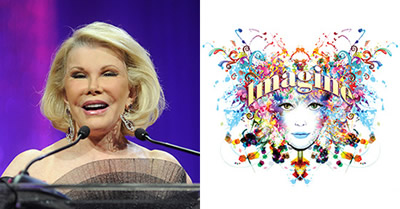 PALM SPRINGS, CA, January 30, 2015 - Even if you were a fan of her irreverent, "Can we talk?" style of comedy, you may not have known the depth of the philanthropy of Joan Rivers, who hosted the 2012 Steve Chase Humanitarian Awards.
"For years, Joan Rivers very significantly supported the work of a number of charities, including God's Love We Deliver which provides nutritious meals to people living with HIV/AIDS and other serious illnesses in New York City," said Barbara Keller, board chair of Desert AIDS Project and co-chair of the annual gala benefiting D.A.P. for the last seven years. "She spoke movingly of being involved with HIV/AIDS since the earliest days when many people referred to it as 'gay pneumonia.'"
"We loved having her at the gala in 2012 and when she died a few months ago, we knew that her good work needed to be marked in some way," said Jim Casey, D.A.P. board member who has also co-chaired the gala for seven consecutive years and brought his company, Integrated Wealth Management, on-board as the gala's presenting sponsor for that same time, for a total of $1.5 million. "Even though Joan Rivers knew that AIDS is not a disease that affects just gay men, she saw many of her gay friends die from it. We like to think Joan would approve of the original story we're going to tell at this year's gala of a sero-discordant couple struggling to cope with HIV."
On a related note, God's Love We Deliver joined Desert AIDS Project on the "Top 20 HIV/AIDS Charities for 2014," which D.A.P. has been on since the list's inception the year before. The list is put together by About.com, the largest source for expert content on the Internet, helping 85 million users each month. The list cites national and international HIV/AIDS organizations for high percentage spent on programs vs. overhead (82% in both 2013 and 2014 for D.A.P.), fundraising efforts (raising $100 for every $15 spent,) and financial transparency.
Time is running short … but a few tickets are still available. Reserve yours now by calling JP Allen at 760-992-0440 or buy them online now!
Click here to watch a link of Joan Rivers discussing her work with God's Love We Deliver in 2013.
ABOUT THE STEVE CHASE GALA AND DESERT AIDS PROJECT
As the signature fundraiser for Desert AIDS Project (D.A.P.), the Steve Chase Humanitarian Awards last year raised more than $1.4 million for client services. Desert AIDS Project (D.A.P.) serves people living with HIV and AIDS by providing comprehensive support, including medical care, case management, and social services, like food, housing, and counseling. D.A.P. also offers free and confidential HIV testing at a number of locations throughout the communities it serves.

To learn more about Desert AIDS Project, please call 760-323-2118, visit www.desertaidsproject.org or find them on Facebook, Twitter, and You Tube.
###
Contact:
Barry Dayton
Director of Marketing & Communications
760-323-2118 ext 434
760-992-0434 – direct
bdayton@desertaidsproject.org
www.desertaidsproject.org
Source: https://www.desertaidsproject.org/staying-current/press-releases/joan-rivers-to-be-honored-at-steve-chase-gala/?mobile=false
"Reproduced with permission - Desert AIDS Project "
Desert AIDS Project



For more HIV and AIDS News visit...

Positively Positive - Living with HIV/AIDS:
HIV/AIDS News