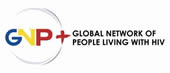 GNP+ Board co-Chair Ryan Maduro steps down
February 10, 2015 - The Board of Directors of the Global Network of People Living with HIV (GNP+) has announced that Ryan Maduro resigned from his position as co-Chair on 16 December 2014 for personal reasons. The Board extends their heartfelt thanks to him for the time and expertise he has dedicated to the organization since he became a Board member in 2008.
His fellow co-Chair of the Board, Cecilia Chung, said: "We are sad to see the departure of Ryan, who has been instrumental in leading the Board of GNP+ into a new era. Whilst he has been co-Chair, GNP+ saw new leadership, with Suzette Moses-Burton appointed as the new Executive Director at the start of 2014. During this time, the Board has focused on strengthening the structure and composition of the Executive Committee, in order to increase its professionalism and effectiveness to improve impact on the lives of people living with HIV."
Ryan Maduro said: "I have been honoured to see GNP+ develop during my time as part of the Board, and proud to have led the organization to develop and undertake a new strategic plan. I have been inspired by the wisdom and passion shared by my fellow Board members, and by activists standing for the rights of people living with HIV around the world. I hope to see GNP+ continue to flourish and develop, as it enters the process of developing a new strategic plan for 2016."
###
For more information, please contact:
GNP+: Victoria Clarke, External Relations & Communications Officer
Office: +31 (0)21 Skype: vclarkegnpplus
The Global Network of People living with HIV (GNP+)
The Gl bal Network of People Living With HIV (GNP+) is the global network for and by people living with HIV. Its mission is to improve the quality of life of people living with HIV. The vision is a powerful and united worldwide social movement of people living with HIV, with their leadership and voices at the centre of the HIV response. GNP+'s objective is equitable access to health and social services for people living with HIV by focusing on social justice, rights and involvement. This will be achieved through GNP's purpose, which is to promote the greater and more meaningful involvement of people living with HIV in programme and policy development (the GIPA principle). For more information, please visit www.gnpplus.net. You can also connect with us on Facebook and Twitter.
Source: The Global Network of People living with HIV (GNP+)
"Reproduced with permission - Global Network of People living with HIV (GNP+)"
Global Network of People living with HIV (GNP+)

For more HIV and AIDS News visit...

Positively Positive - Living with HIV/AIDS:
HIV/AIDS News