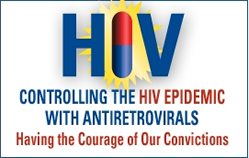 Controlling the HIV Epidemic with ARVs Summit
The International Association of Providers of AIDS Care (IAPAC) is hosting its fourth annual Controlling the HIV Epidemic with Antiretrovirals Summit, which will take place October 1-2, 2015, in Paris.
September 7, 2015 - Co-sponsored with UNAIDS, the AIDS Healthcare Foundation, and the City of Paris, the summit will feature data related to and discussion about the scale up of treatment as prevention and pre-exposure prophylaxis. The summit will also provide a forum for exploring HIV control within the context of the UNAIDS 90-90-90 targets.
The summit is Co-Chaired by Julio Montaner, MD (BC Centre for Excellence in HIV/AIDS, Vancouver, BC, CANADA), and Kenneth Mayer, MD (Fenway Institute/Harvard Medical School, Boston, MA, USA). Among the confirmed faculty (as of August 17, 2015) are:
K. Rivet Amico, PhD (University of Michigan, Ann Arbor, MI, USA)
Marcelo Araújo de Freitas, MD, PhD (Ministry of Health, Brasilia, BRAZIL)
Dominique Costagliola, PhD (University Pierre and Marie Curie, Paris, FRANCE)
François Dabis, MD (Bordeaux Segalen University, Bordeaux, FRANCE)
Serge Eholié, MD, PhD (University Félix Houphouet-Boigny, Abidjan, CÔTE D'IVOIRE)
Terri Ford (AIDS Healthcare Foundation, Los Angeles, CA, USA)
Robert M. Grant, MD, MPH (University of California, San Francisco, CA, USA)
Mark Harrington (Treatment Action Group, New York, NY, USA)
Jonathan Mermin, MD (Centers for Disease Control & Prevention, Atlanta, GA, USA)
Guodong Mi, MD, PhD (Chinese Center for Disease Control & Prevention, Beijing, CHINA)
Jean-Michel Molina, MD (Hospital Saint-Louis, Paris, FRANCE)
Peter Mugyenyi, MD (Joint Clinical Research Centre, Kampala, UGANDA)
Velephi Okello, MBBS, MPH (Ministry of Health, Mbabane, SWAZILAND)
Praphan Phanuphak, MD, PhD (Chulalongkorn University, Bangkok, THAILAND)
Deenan Pillay, MD (University College, London, ENGLAND)
Celso Ramos, MD, MSc (Federal University of Rio de Janeiro, BRAZIL)
Jorge Saavedra, MD (AIDS Healthcare Foundation, Mexico City, MEXICO)
Douglas N. Shaffer, MD, MHS (OGAC/PEPFAR, Washington, DC, USA)
Kate Shannon, PhD (BC Centre for Excellence in HIV/AIDS, Vancouver, BC, CANADA)
Kenly Sikwese (African Community Advisory Board, Lusaka, ZAMBIA)
Francois Venter, MD (University of the Witswatersrand, Johannesburg, SOUTH AFRICA)
Brian Williams, PhD (SACEMA, Johannesburg, SOUTH AFRICA)
Anna Zakowicz, MPH, MA (AHF Europe, Amsterdam, NETHERLANDS)
Nittaya Phanuphak, MD, PhD (Thai Red Cross AIDS Research Centre, Bangkok, THAILAND) will deliver the summit's inaugural Joep MA Lange, MD, PhD, Memorial Lecture .

Registration is free-of-charge.

Click here to view the summit program, submit an abstract, and/or register online.

Source: www.iapac.org




Reproduced with permission -
"International Association of Physicians in AIDS Care (IAPAC)"

International Association of Physicians in AIDS Care (IAPAC)





For more HIV and AIDS News visit...

Positively Positive - Living with HIV/AIDS:
HIV/AIDS News