Press Release
Queen of the Desert returns, raising $30,000 for D.A.P.
Jazmyn Simone-Echelon crowned by Champagne Showers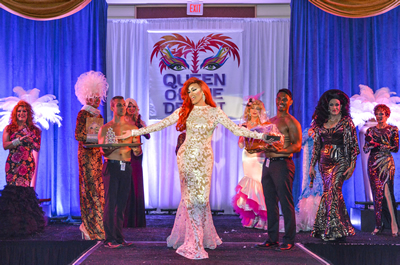 2015 Queen of the Desert for Desert AIDS Project
Photo By David Lee
PALM SPRINGS, CA, May 29, 2015 - A sold-out audience of more than 600 packed the ballroom at the Renaissance Palm Springs on May 27 to cheer on their favorite drag performer in the 2nd Annual Queen of the Desert lip-sync competition. And they all showed their appreciation – while contributing even more to Desert AIDS Project– by voting for their favorite Queen-wannabee.
Community icon Bella da Ball and last year's Fan Favorite Ethylina Canne served as the evening's emcees and kept the show moving along to the delight of the crowd who were evident in their support of one of more of the performers. David Brinkman, CEO of Desert AIDS Project, joined in the fun as he welcomed the crowd with a photo of "his sister" who made a brief appearance on-stage a couple of years ago at another D.A.P. fundraiser.
At the end of the evening, the crowd had spoken with their wallets and named Jazymn Simone-Echelon as Fan Favorite. Apparently, the judges agreed because "Project Runway" contestant Raymundo Baltazar, Maude Chapeau and Dottie DuBois of Les Dames du Soleil fundraising fame, Steven Henke of The Desert Sun, and pageant producer/choreographer Steven Michael also granted her the Queen of the Desert title, as well as the evening's "Fierce & Flawless Award." Champagne Showers, the inaugural Queen of the Desert at last year's competition, not only gave a special performance but later crowned the new queen and presented her court to the cheering crowd.
But it wasn't a title easily-won as evidenced by the awards given to the other performers who tore up the stage: Crystal Champagne was named both "Dazzler" and "The Original," Fabeyonce was "Show Stopper," Jayla D. Foxx tickled the "Funny Bone," Lola La-Showgirl was "Dressed to Thrill," and Melissa Stratman was recognized as both "Ms. Personality" and "The Talent." To the audience's delight, the evening's Trophy Boys – Damian Ray Estevene, Addison Graham, and Masio Winston – returned to the stage after somehow misplacing their shirts, to help award the trophies.
D.A.P. board members in the enthusiastic crowd included Patrick Jordan, Steve Kaufer, Terri Ketover, and Steve Lachs. "This evening was so much fun and it was even better than last year," said Barbara Keller, board chair of D.A.P. who also co-chaired the Steve Chase Humanitarian Awards gala with Jim Casey for the last seven years. "I love how D.A.P. throws fundraising events for a variety of audiences and tastes. Galas, the AIDS Walk, dining events, and drag shows – I think they cover it all and with taste and panache."
Carolyn Caldwell, CEO of Desert Regional Medical Center (DRMC) and also a D.A.P. board member, came to the stage to thank everyone for being a part of the evening and urged everyone to support Get Tested Coachella Valley, the community partner coalition for HIV testing that DRMC and parent Tenet Corporation, are behind as primary sponsor with their gift of $1.5 million, over the campaign's three-year lifespan. Said Caldwell, "Desert Regional Medical Center has been there since the beginning of the AIDS epidemic and we plan to be there until we can all happily defeat HIV once and for all."
###
ABOUT DESERT AIDS PROJECT
Desert AIDS Project (D.A.P.) serves our community with primary and HIV-specialty services, including medical care, case management, and social services, like food, housing, and counseling. D.A.P. also offers free and confidential HIV testing at a number of locations throughout the communities it serves. Comprehensive sexual health services, including HIV testing, Pre-Exposure Prophylaxis (PrEP) and Post-Exposure Prophylaxis (PEP,) STI testing and treatment, and well-woman services, are also available at The DOCK, located at D.A.P.'s main campus at 1695 N. Sunrise Way at Vista Chino in Palm Springs. To learn more about Desert AIDS Project, please call 760-323-2118, visit visit www.desertaidsproject.org or find them on Facebook, Twitter, and You Tube.
Contact:
Barry Dayton
Director of Marketing & Communications
760-323-2118 ext 434
760-992-0434 – direct
bdayton@desertaidsproject.org
www.desertaidsproject.org
"Reproduced with permission - Desert AIDS Project "
Desert AIDS Project



For more HIV and AIDS News visit...

Positively Positive - Living with HIV/AIDS:
HIV/AIDS News