Launch of the LGBT End-of-Life Conversations Website
News Release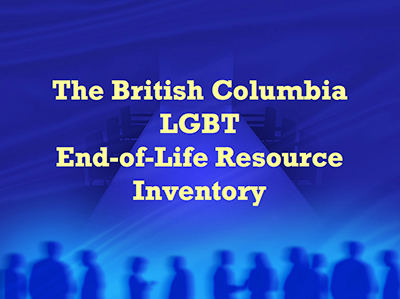 March 23, 2015 - The Simon Fraser University Gerontology Research Centre and its academic and community partners from across Canada are pleased to announce the launch today of the LGBT End-of-Life Conversations Website at www.sfu.ca/lgbteol. The website reports findings from focus groups conducted in Vancouver, Edmonton, Toronto, Montreal and Halifax with LGBT older adults and people who provide service to them. It contains Resource Inventories prepared by the project team in each city that list facilities and services that LGBT older adults may find helpful and LGBT friendly as they make decisions about their current and future housing, health care, support services, etc. The website also offers the opportunity for people to share their hopes, fears and concerns about aging and end of life as well as successful solutions to every day problems. Try out our Discussion Forum today. It's available 24/7, monitored by members of the LGBT community, to ensure a positive environment for information, communication and e-community building.
Brian deVries, PhD and Gloria Gutman, PhD
Simon Fraser University Gerontology Research Centre
#2800 - 515 W Hastings St Vancouver BC V6B5K3
This project was funded by a Catalyst grant from TVN-NCE


About Simon Fraser University
In the place where innovative education, cutting-edge research and community outreach intersect, you'll find Simon Fraser University. Our vision? To be Canada's leading engaged university.
Born in 1965, SFU has become Canada's leading comprehensive university with vibrant campuses in British Columbia's largest municipalities — Vancouver, Burnaby and Surrey — and deep roots in partner communities throughout the province and around the world. Visit: www.sfu.ca
"Reproduced with permission - Simon Fraser University (SFU) "
Simon Fraser University (SFU)

For more HIV and AIDS News visit...

Positively Positive - Living with HIV/AIDS:
HIV/AIDS News