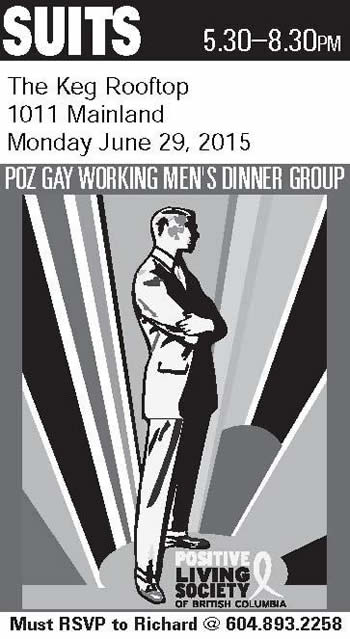 Suits - Poz Gay Working Men's Dinner Group
- Monday, June 29th, 2015
- Keg Yaletown
Join us on the roof of the Yaletown Keg at 1011 Mainland St. (corner of Mainland and Nelson St.) for one of our most popular dinners. They have a beautifully landscaped rooftop patio with views of the city and stadium roof!
Come and enjoy one of the best patio experiences in Vancouver with your host Brent!
This is Brent's favourite patio - almost feels like you are in New York. Dinner can be as inexpensive as shared nachos for 2 at $6.00 per person, burgers for $12.00 and steak dinners for $20 to $30.
Monday, June 29th
5:30pm - 8:30PM
Yaletown Keg
1011 Mainland St. Vancouver, BC.
RSVP Brentsawlor@gmail.com
This monthly dinner, takes place at a restaurant in the Vancouver area on the last Monday of each month, and offers working men a chance to build community and combat isolation and stigma. SUITS provides a forum where HIV poz men can meet other professionals, network and have a positive influence on the community.
SUITS is part of the Positive Living BC Society of British Columbia Support Departments' Wellness Promotion programs.



POSITIVE LIVING BC is dedicated to empowering persons living with HIV/AIDS through mutual support and collective action. We are a Registered Non-profit Society (#11928-2085) and an established leader in the HIV/AIDS movement. Uniquely among major agencies in Canada, the POSITIVE LIVING BC Board of Directors is composed entirely of HIV+ members.

Formerly known as the British Columbia Persons With AIDS Society (BCPWA) and with a membership of more than 5,000 HIV+ members, we are Western Canada's largest AIDS service organization and a proud history spanning three decades.
"Reproduced with permission - POSITIVE LIVING BC"
POSITIVE LIVING BC

For more HIV and AIDS News visit...

Positively Positive - Living with HIV/AIDS:
HIV/AIDS News