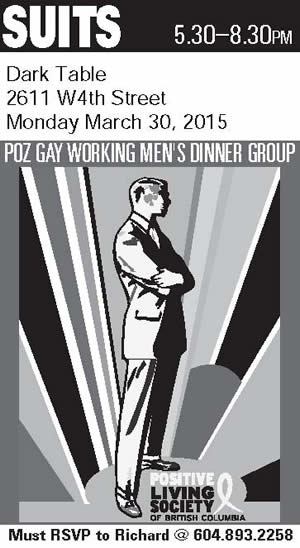 Suits - Poz Gay Working Men's Dinner Group
- Monday March 30, 2015
- Dark Table
Join other working guys on March 30, 2015 at Dark Table restaurant, 2611 W4th Avenue, Vancouver, BC.
Already a hit in major cities like London, Paris, New York, L.A. and Montreal, blind dining is finally coming to Vancouver, offering a unique opportunity to experience dining in a whole new way—in the dark. An evening at Dark table will take you on a culinary journey through uncharted territory, where the familiar—food, drink and friends becomes a wonder to be explored and discovered, as if for the first time.
Without the sense of sight, the senses of touch, taste, hearing and smell are intensified, allowing a new perception of reality. Dark Table is open now in Kitsilano, at 2611 W4th, offering Vancouver exceptional cuisine, superb service and a voyage to the unknown.
HOW IT WORKS?
Upon arrival in the lighted lounge, take your time and choose from a first-class menu rivaling some of Vancouver's best restaurants.

When you're ready, you'll be led to your table in the dark dining room by a blind, or visually impaired server who has been trained to ensure your comfort at all times.

Once seated, you'll have the opportunity to adjust to the darkness and truly give yourself to this extraordinary experience.

No light producing technologies are allowed in the dining room, including flashlights, cellphones, or luminous watches.

Dark Table is owned by Moe Alameddine, founder of O.Noir, Canada's only blind dining restaurants in Montreal and Toronto.

The blind dining concept originated in Switzerland in the home of a blind man—Jorge Spielmann—who blindfolded his guests in an attempt to show them what eating is like for a blind person.

Spielmann's guests enjoyed the experience immensely, and claimed that when their sense of sight was removed, taste, smell, hearing and touch were amplified to the extent that the social act of eating took on a whole new meaning. These initial dinners evolved into a restaurant concept that included a dark dining room and blind servers, a tradition that Dark Table will continue.
###
March 30, 2015
5:30-8:00PM
Dark Table - www.darktable.ca
2611 W4th Avenue, Vancouver, BC
RSVP richardh@positivelivingbc.org
This monthly dinner, takes place at a restaurant in the Vancouver area on the last Monday of each month, and offers working men a chance to build community and combat isolation and stigma. SUITS provides a forum where HIV poz men can meet other professionals, network and have a positive influence on the community.
SUITS is part of the Positive Living BC Society of British Columbia Support Departments' Wellness Promotion programs.



POSITIVE LIVING BC is dedicated to empowering persons living with HIV/AIDS through mutual support and collective action. We are a Registered Non-profit Society (#11928-2085) and an established leader in the HIV/AIDS movement. Uniquely among major agencies in Canada, the POSITIVE LIVING BC Board of Directors is composed entirely of HIV+ members.

Formerly known as the British Columbia Persons With AIDS Society (BCPWA) and with a membership of more than 5,000 HIV+ members, we are Western Canada's largest AIDS service organization and a proud history spanning three decades.
"Reproduced with permission - POSITIVE LIVING BC"
POSITIVE LIVING BC

For more HIV and AIDS News visit...

Positively Positive - Living with HIV/AIDS:
HIV/AIDS News