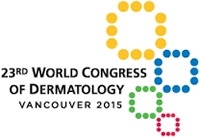 A GLOBAL CELEBRATION of DERMATOLOGY
Vancouver, Canada | June 8 - 13, 2015
Vancouver HIV Pioneer Addresses World Congress of Dermatology
June 8, 2015, Vancouver - Dr. Julio Montaner, a Vancouver physician who is internationally recognized for his pioneering work in HIV/AIDS treatment and prevention, is today speaking to the World Congress of Dermatology (WCD) on the breakthrough therapeutic approach known as Treatment as Prevention (TasP).
In his now famous TEDx talk of 2011, Dr. Montaner recalls the years leading up to the landmark 1996 International Aids Conference, in Vancouver, where he and others unveiled research that transformed AIDS from death sentence into manageable chronic condition. The conference's theme was "One World One Hope".
"We knew that there was one world affected by the epidemic, but we didn't know there was hope in 1994," said Dr. Montaner. "Little did we know that the hope was brewing in our own clinics here in Vancouver.
"To our surprise, at the time of the conference, we were able to unveil new data that for the first time showed that by using triple therapy cocktails -- in other words three drugs all at once -- in people who were starting treatment, we could stop the ability of the HIV virus from replicating. In other words, we shut down the replication of the virus."
The treatment, known as highly active antiretroviral therapy (HAART), is now being hailed as a way to not only treat HIV/AIDS, but also significantly reduce its transmission. It is estimated that HAART decreases the risk of HIV transmission by up to 96 per cent – hence the notion of TasP.
In 2006, British Columbia introduced TasP for HIV/AIDS province-wide, and since then, BC has been the only province in Canada to see a decline in new HIV cases. Today, the remarkable success of TasP has made it an important model for study in all fields of medicine, including dermatology.
"We are honoured to welcome Dr. Montaner to the World Congress of Dermatology," said Dr. Jerry Shapiro, President of WCD 2015. "With some 11,000 delegates on hand from around the world, this is an extremely valuable opportunity to share his knowledge globally and across specialties."
Dr. Montaner is a professor of medicine at the University of British Columbia (UBC) and has held the endowed chair in AIDS research at SPH/UBC since 1996. He is a founding co-director of the Canadian HIV Trials Network. He is the director of the BC Centre for Excellence in HIV/AIDS. He has been a member of the International AIDS Society since 1988, an elected member of the North American Region since 2002 and president from 2008-2010.
Dr. Montaner has authored over 450 scientific publications on HIV/AIDS. His current research interests include HAART as prevention, optimal use of HAART, salvage therapy, new anti-retrovirals, as well as hard to reach populations and harm reduction.
The International League of Dermatological Societies, through the International Foundation for Dermatology has published guidelines for the treatment of HIV-related dermatologic and oral conditions in collaboration with the World Health Organization.
For more information on Dr. Montaner and his work, visit www.cfenet.ubc.ca/tasp.
- 30 -
About the WCD
The World Congress of Dermatology is the world's oldest and continuous international dermatology meeting. The first WCD was held in 1889 and is presented under the auspices of the International League of Dermatological Societies. The 23RD WCD is the first to be held in Canada. For more information, contact the WCD press office at 778-331-7624 or www.derm2015.org. Follow the WCD on Twitter and Instagram at @Derm2015.
About the ILDS
The International League of Dermatological Societies is a non-governmental organization in official relations with the
World Health Organization and was officially established in 1935 during the 9th International Congress of Dermatology and Syphilology held in Budapest. The objectives of the ILDS are to stimulate on a global basis the cooperation of societies of dermatology and societies interested in cutaneous medicine and biology; encourage the worldwide advancement of dermatological education, care, and science; promote personal and professional relations amongst dermatologists from around the world; represent dermatology in international health organizations; and, organize a World Congress of Dermatology every four years. For more information about the ILDS, connect with them on Twitter @ILDSDerm or visit www.ilds.org.
Contact Information
Jennifer Scott,
WCD2015 Media Relations Director Tel.: 778-331-7624
Mobile: 1-613-716-2098
media@derm2015.org
www.derm2015.org
Source: www.derm2015.org

"Reproduced with permission - The World Congress of Dermatology"
The World Congress of Dermatology


For more HIV and AIDS News visit...

Positively Positive - Living with HIV/AIDS:
HIV/AIDS News