amfAR Report Examines Heavy Impact of HIV/AIDS on Black Gay Men in the United States
CDC says one in three Black gay men in the U.S. is living with HIV; Report urges stronger national effort to reduce HIV disparities and better support community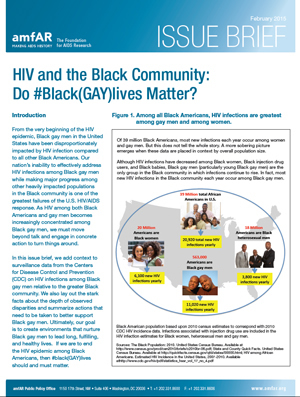 NEW YORK, Feb. 6, 2015 - The nation's inability to effectively address HIV infections among Black gay men is one of the greatest failures of the U.S. HIV/AIDS response, according to a new report released today by amfAR, The Foundation for AIDS Research. Despite their disproportionate risk, the report finds that efforts to address the HIV epidemic among Black gay men have been consistently inadequate, and immediate steps must be taken to reduce new HIV infections among this underserved population.
Black gay men represent 53 percent of all new HIV infections among Black Americans each year; they are also the only Black population in which new HIV cases have been growing since 2001. Studies show that Black gay men are at higher risk of HIV exposure not because they engage in more risk-associated behaviors, but because of the high prevalence of HIV in the Black gay community, which increases the chances of HIV transmission.
While there are biological factors that make gay men more prone to HIV than other populations, the report, titled HIV and the Black Community: Do #Black(GAY)Lives Matter?, highlights several other underlying factors contributing to the elevated rates of HIV among Black gay men. These include a history of neglect by institutions and communities; underfunding and lack of resources; and lack of access to healthcare and social support.
"We are sounding the alarm on a health crisis that has been going on for some time right here in the U.S. among Black gay men," said Kevin Robert Frost, amfAR's chief executive officer. "The HIV epidemic among this population has been documented for decades now, but it has never really been discussed on a national scale. We have an opportunity to change the course of the epidemic, engage in an open and vigorous dialogue, and take immediate steps to rectify the situation before it sets us back even further in our nation's HIV response."
The report provides recommendations aimed at reducing and ultimately eliminating HIV-related health disparities, and highlights current efforts to address the epidemic among Black gay men, including initiatives by the government, private sector and community leaders.
Under the Obama Administration's National HIV/AIDS Strategy, federal agencies are urged to accelerate efforts to increase HIV testing and access to services and treatment for communities that are disproportionately affected by HIV/AIDS. The National Institutes of Health has also increased research and intervention funding to address HIV among Black gay men.
Earlier this week, pharmaceutical company ViiV Healthcare announced a multimillion dollar initiative, ACCELERATE!, to respond to the HIV epidemic among Black gay men and other MSM in Baltimore, Maryland, and Jackson, Mississippi, two U.S. cities deeply impacted by HIV/AIDS.
Black LGBT and AIDS organizations have also increased the visibility of the crisis, and have become more vocal in demanding action from the federal government and their own communities.
While efforts are headed in the right direction, much more needs to be done. "We need to show Black gay men that their lives matter," said Greg Millett, amfAR vice president and director of public policy.
"With one in three black gay men living with HIV in the U.S., there is no time to lose. It will require a collective effort by Black leaders, government, community members and other stakeholders to make sure that Black MSM have access to and are retained in HIV care. Collaborative efforts like ViiV Healthcare's initiative give me hope that we can finally begin to reverse the escalating HIV infection rates among Black MSM that the CDC has been documenting for the past 15 years."
Among its recommendations, the report urged that funding follow the epidemic. Despite higher HIV prevalence among Black gay men, most HIV prevention and care intervention programs at the federal, agency and state levels tend to be directed toward other Black populations at lower risk for HIV. More investments must also be made to better understand what is driving HIV infections among Black gay men and to support innovative interventions to help reduce the number of new infections.
Ensuring access to healthcare should also be a priority, including facilitating efforts to enroll Black gay men in health insurance, expand access to pre-exposure prophylaxis (PrEP) for HIV-negative Black gay men, and keep both infected and uninfected Black gay men engaged in healthcare. Positive shifts in the Black community toward supporting LGBT issues and the growing presence of high-profile LGBT public figures should also be leveraged to spark conversations about sexuality and sexual health within families and the Black community at large.
The full report, HIV and the Black Community: Do #Black(GAY)Lives Matter? , is available on amfAR's web site here.
###
Source: http://www.amfar.org/Heavy-Impact-of-HIV-AIDS-on-Black-Gay-Men-US/
About amfAR

amfAR, The Foundation for AIDS Research, is one of the world's leading nonprofit organizations dedicated to the support of AIDS research, HIV prevention, treatment education, and the advocacy of sound AIDS-related public policy. Since 1985, amfAR has invested nearly $400 million in its programs and has awarded grants to more than 3,300 research teams worldwide. For more information, please visit www.amfar.org.
Media Contact:
Joana Casas, Program Communications Manager
(212) 806-1602
joana.casas@amfar.org
"Reproduced with permission - amfAR, The Foundation for AIDS Research"
amfAR, The Foundation for AIDS Research


For more HIV and AIDS News visit...

Positively Positive - Living with HIV/AIDS:
HIV/AIDS News