AIDS 2016 Media Registration
Is Open
MAY 19, 2016
EXPECTED TOPICS
This July, the International AIDS Conference will return to Durban for the first time since 2000. The 13th International AIDS Conference in 2000 was a catalyst for historic change, ushering in a global movement to bring lifesaving HIV treatment to South Africa and other developing countries, and paving the way for the creation of The Global Fund and PEPFAR.
AIDS 2016 will once again transform the world's view of what is possible, helping to establish a clear path forward to end AIDS. It will deliver a best-in-class programme covering the most pressing issues in HIV:
Continuing momentum in the search for an HIV vaccine and functional cure
Translating new insights from recent HIV prevention trials into clinical practice
Realizing the full potential of pre-exposure prophylaxis (PrEP)
Confronting challenges in HIV co-infections and co-morbidities
Evaluating progress towards the end of AIDS
The conference will feature 2,000 scientific abstracts, 500 sessions, a plenary speaker line-up headlining the world's most distinguished scientists and leaders, a diverse and vibrant Global Village and specialized pre-conference meetings on HIV cure, tuberculosis, HIV/Hepatitis C co-infection and other critical topics.
REGISTRATION AND LOGISTICS
The official AIDS 2016 press programme is currently in development and will be available in late June, after late-breaker abstracts have been accepted and added to the conference agenda. Check the AIDS 2016 online media centre regularly for the latest information.
Please note that media representatives register through the same registration system as regular delegates and indicate within that process that they are registering as media to receive the free registration. Registered media will have access to a fully equipped on-site media centre, daily official press briefings, third party press events, scientific sessions and leading experts.
Media registration submissions are reviewed on a rolling basis and only fully complete submissions will be reviewed. Please contact media@aids2016.org with any questions about your registration, additional enquiries, or interview requests. We look forward to seeing you in Durban!
Media Contact
Mandy Sugrue, Senior Communications Manager
Source: www.aids2016.org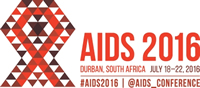 The International AIDS Conference is the premier gathering for those working in the field of HIV, as well as policy makers, persons living with HIV and other individuals committed to ending the pandemic. It is a chance to assess where we are, evaluate recent scientific developments and lessons learnt, and collectively chart a course forward.
The AIDS 2016 programme will present new scientific knowledge and offer many opportunities for structured dialogue on the major issues facing the global response to HIV. A variety of session types – from abstract-driven presentations to symposia, bridging and plenary sessions – will meet the needs of various participants. Other related activities, including the Global Village, satellite symposia, the Exhibition and affiliated independent events, will contribute to an exceptional opportunity for professional development and networking.
The AIDS 2016 conference will be held at the Durban International Convention Centre (ICC) from 18 to 22 July 2016.
For more HIV and AIDS News visit...

Positively Positive - Living with HIV/AIDS:
HIV/AIDS News