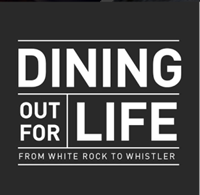 DINING OUT FOR LIFE 2016: Vancouver / Whistler
ON THURSDAY, MARCH 10, 2016, JOIN US AND THOUSANDS OF OTHERS AS WE MAKE A DIFFERENCE, ONE BITE AT A TIME!
On Thursday, March 10, dine out for breakfast, lunch or dinner at participating restaurants and support people living with HIV/AIDS right here at home.
March 2016 - From Whistler to White Rock and across the Lower Mainland, our fantastic restaurant partners will contribute 25% of their food sales to registered not-for-profits Friends For Life and A Loving Spoonful . All proceeds directly benefit the programs and services they provide free-of-charge, including:
Over 110,000 meals per year delivered to those affected by HIV/AIDS in Metro Vancouver and surrounding regions
Nutritional counselling and meal planning
60+ support therapies ranging from therapeutic massage to naturopathy, music therapy to yoga
End-of-life care to people in their own homes
HIV/AIDS IN BC: In 2011, the Public Health Agency of Canada estimated 71,300 people living with HIV/AIDS in Canada — with over 25% residing in British Columbia. Vancouver's Downtown Eastside maintains the highest HIV prevalence in the Western world, reaching as high 27%.
While new infection rates in B.C. have thankfully decreased, advanced therapies mean people with HIV/AIDS are living longer and the number of people who depend on the services of Friends For Life and A Loving Spoonful continues to grow.
Dine out on Thursday, March 10, 2016 and make it a day to remember.
Why not invite your friends to dine out as well?
###
Source: http://www.diningoutforlife.com/vancouver
For more HIV and AIDS News visit...

Positively Positive - Living with HIV/AIDS:
HIV/AIDS News