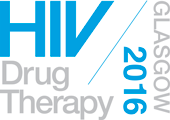 HIV Glasgow 2016
October 23 - 26, 2016
SECC: Scottish Exhibition and Conference Centre
Glasgow, UK
We are delighted that HIV Glasgow 2016 will take place from 23-26 October 2016 at the Scottish Exhibition and Conference Centre, Glasgow, UK.
To view the full Scientific Programme, Poster Listing and Industry Symposia from HIV Glasgow 2014 – please click here. Accepted abstracts from the 2014 meeting are available via the Journal of the International AIDS Society website here.
###
HIV Glasgow 2016
23-26 October 2016
SECC
Glasgow, UK
hivglasgow@ashfieldhealthcare.com
http://hivglasgow.org/
"Reproduced with permission - HIV Glasgow 2016"
HIV Glasgow 2016

For more HIV and AIDS News visit...

Positively Positive - Living with HIV/AIDS:
HIV/AIDS News