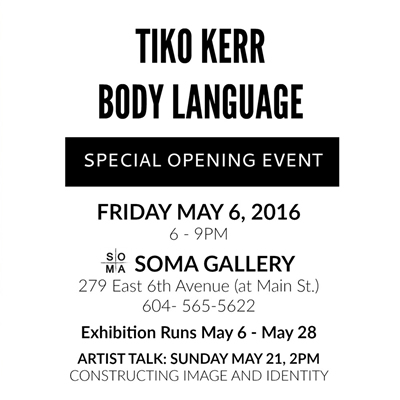 Tiko Kerr "Body Language"
Tiko Kerr:  Opening Night:  "Body Language", Friday, May 6, SOMA Art Gallery
April 2016
"Please join me for the Opening for my new exhibition Body Language at SOMA Art Gallery.
This body of work has pushed me to consider the hard artistic matter of perception and how we shape identity. Individuals are more than what they first appear to be - the complexity of identity is always a collage of awareness. This show is special to me so I hope you are able to attend. Thank you as always for your support." - Tiko
What: "BODY LANGUAGE" by Tiko Kerr
SPECIAL OPENING EVENT

When: Friday, May 6, 2016 - 6 - 9 PM
Exhibition runs May 6 - May 28
Where: SOMA Art GALLERY
279 East 6th Avenue, Vancouver, BC
ARTIST TALK: SUNDAY MAY 21 2PM
CONSTRUCTING IMAGE AND IDENTITY
"Reproduced with permission - Tiko Kerr "
Tiko Kerr

For more HIV and AIDS News visit...

Positively Positive - Living with HIV/AIDS:
HIV/AIDS News