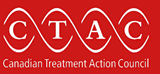 "ACCESS DENIED"
Are PWAs in British Columbia getting what they and their doctors ordered to treat HIV/AIDS and related conditions?
WHEN: Thursday February 7th, 2008

TIME: 9:30 AM - 4:00PM

WHERE: Best Western Chateau Granville
Chateau/Pigalle 1 Room
1100 Granville Street
Vancouver, B.C.
Would you like to learn more about how government policies and systems affect your access to drugs and other therapies? Do you want to better understand government cost containment strategies that put your health at risk? Do you think B.C. should cover the cost of treatments for facial lipoatrophy for those who can't afford it?
Join community members, advocates and physicians on February 7th for a panel discussion and workshop on access to treatment issues in British Columbia for PWAs.
This workshop offers a great opportunity to learn more about provincial an federal systems and how to affect change before change affects you.
This workshop is hosted by the Canadian Treatment Action Council (CTAC) in partnership with British Columbia Persons with AIDS Society (BCPWA), Youthco, AIDS Vancouver, Positive Women's Network (PWN) and the BC Centre for Excellence.
Lunch and snacks will be provided. Travel and Child Care will be reimbursed. All are welcome!
To register for this workshop or for more information, please contact:
Sonika Lal, Project Coordinator
Canadian Treatment Action Council
Telephone: (416) 410-6538
Email: Sonika@ctac.ca