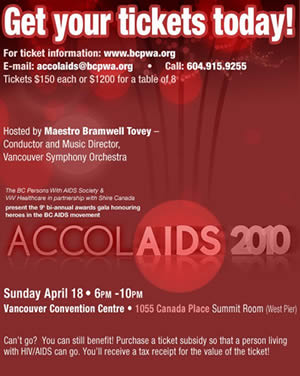 ACCOLAIDS 2010
Get your tickets today!
For ticket information: www.bcpwa.org
E-mail: accolaids@bcpwa.org * Call 604.915.9255
Tickets $150 each or $1200 for a table of 8
Hosted by Maestro Bramwell Tovey -
Conductor and Music Director,
Vancouver Symphony Orchestra
The BC Persons With AIDS Society & ViiV Healthcare in partnership with Shire Canada present the 9th bi-annual awards gala honouring our heroes in the BC AIDS movement
ACCOLAIDS 2010
Sunday, April 18th - 6PM -10PM - Vancouver Convention Center
1055 Canada Place Summit Room (West Pier)
Can't go? You can still benefit! Purchase a ticket subsidy so that a person living with HIV/AIDS can go. You'll receive a tax receipt for the value of the ticket.