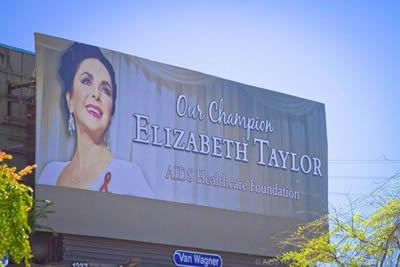 Los Angeles, CA - April 1, 2011- (AIDS Healthcare Foundation (AHF)) - This week AIDS Healthcare Foundation (AHF), the largest global AIDS organization, launched a public tribute to Hollywood legend Elizabeth Taylor with a number of billboards around Los Angeles commemorating her contribution to the AIDS fight. The much-loved actress and AIDS activist passed away on March 23rd of complications from congestive heart failure at the age of 79. The billboards feature a dazzling image of the late actress with a red AIDS ribbon pinned to her gown. It says simply: "Our champion, Elizabeth Taylor."
"She was a singular champion for AIDS activism. She did it before it was fashionable," said Michael Weinstein, President of AIDS Healthcare Foundation. "She spoke truth to power on a variety of issues, including chiding President Reagan for not saying the word AIDS and not funding work on AIDS. Her organization had no overhead, and it helped fund AHF and other organizations in Los Angeles. For her to say something and show her compassion changed the game."
Added Weinstein: "The billboards are a tribute to someone who was more than a film star-she was a real hero and one who truly deserves all the accolades she is receiving. The ads are also reminder that, though Ms. Taylor bravely stood up for people living with HIV/AIDS at an important moment in history, the AIDS epidemic is still not over and there remains much work to be done."
The handful of billboards, now appearing in Los Angeles, are part of AHF's ongoing public awareness campaign-in Los Angeles, the San Francisco Bay Area and South Florida-surrounding HIV/AIDS issues, including the need for testing, treatment access and advocacy.
Over the years AIDS Healthcare Foundation has received several grants from the Elizabeth Taylor AIDS Foundation (ETAF). These funds were specifically designated for AHF's 'Ithembalabantu' Clinic (Zulu for 'people's hope') in Durban, South Africa, which provides free lifesaving antiretroviral treatment to people with AIDS. The first of these grants came long before President George W. Bush created the US' global AIDS program known as PEPFAR (President's Emergency Plan for AIDS Relief) and at a time when treatment was not widely available in poor countries around the world. Just has she had in the earliest days of the epidemic, Ms. Taylor once again demonstrated real leadership in the fight against AIDS-this time, in helping to prove that treatment could and should be brought to those in need around the world.
About AHF

AIDS Healthcare Foundation (AHF) is the US' largest non-profit HIV/AIDS healthcare provider. AHF currently provides medical care and/or services to more than 80,000 individuals in 22 countries worldwide in the US, Africa, Latin America/Caribbean and Asia. Additional information is available at www.aidshealth.org
Contact:
AIDS Healthcare Foundation
UNITED STATES
Ged Kenslea,
Communications Director, AHF
P. (323) 308-1833,
F. (323) 465-3568
ged.kenslea@aidshealth.org

or

Lori Yeghiayan,
Associate Director of Communications, AHF
P. (323)308-1834
F. (323) 465-3568
loriy@aidshealth.org