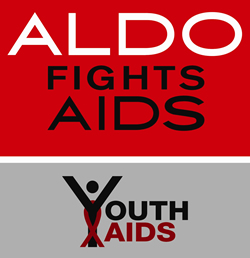 Join the Fight Against HIV / AIDS
ALDO Introduces the latest "ALDO Fights AIDS" product
MONTREAL, Quebec, June 25, 2007 - ALDO and YouthAIDS have once again joined forces to deliver a fresh adaptation of their original global campaign with the introduction of a limited edition collection of ALDO Fights AIDS "Hear", "See" and "Speak" pins. The impact of the ALDO Fights AIDS campaign has been immense. Since the launch in Fall 2005, ALDO has raised over $3.2 million dollars for YouthAIDS, impacting the lives of millions of young people around the world. ALDO's goal is to increase these figures as they introduce the ALDO Fights AIDS pins in the hopes of spreading a powerful AIDS message and raising even more funds to help combat this global pandemic.
This season's new products are 80s inspired retro pins, available in stores and online as of June 25th. The pins will be sold at all ALDO, ALDO Outlet and ALDO Accessories stores, for $2 each or a special collector's price of 3 for $5, with 100% of net proceeds being donated to YouthAIDS. The new ALDO Fights AIDS pins will also be available on http://www.aldoshoes.com in packs of 3 for $5.
Young people are most at risk for contracting HIV. Every 15 seconds, a young person between the ages of 15-24 becomes infected with HIV/AIDS; fifty percent of all new infections occur among this age group, and most do not know they carry this deadly virus. ALDO and YouthAIDS are determined to reverse this trend. ALDO and YouthAIDS have gained tremendous support in the fight against AIDS within the Young Hollywood community with such celebrities as Ashley Judd, Avril Lavigne, Benji & Joel Madden, Bow Wow, Brittany Murphy, Eva Mendes, Eve, John Mayer, Kelly Rowland, Ludacris, Pink, Rosario Dawson, Salma Hayek.
Impact of ALDO Fights AIDS:
With the funds raised over the last year from the ALDO Fights AIDS campaign, YouthAIDS and its parent organization, PSI (Population Services International), have been able to invest substantially in programs that protect young people at-risk from HIV infection.
For more information about ALDO, please visit: http://www.aldoshoes.com
For more information about YouthAIDS, please visit: http://www.youthaids.org
For further information: Jill Borkan of Alison Brod Public Relations, +1-212-230-1800, jill@alisonbrodpr.com, for ALDO Web Site: