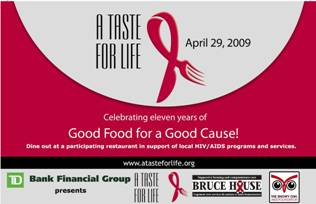 A Taste for Life 2009
Great Food for a Great Cause!
On Wednesday April 29, 2009, almost 50 of Ottawa's best restaurants will donate 25% of their dinner proceeds to Bruce House and The Snowy Owl AIDS Foundation.
These great organizations provide support to people in Ottawa living with HIV and AIDS and also support educational programs aimed at prevention.
Participation is simple. Simply log on to www.atasteforlife.org , choose a restaurant, make a reservation and dine out on April 29th.
Some groups and businesses choose to invite clients, staff and friends to join them at a particular restaurant. Several local business owners has found it a great team builder to invite their staff to dinner on that night. There are many ways to maximize this event to everyone's benefit.
If you would like help choosing the right restaurant for your group or personalizing an event within a specific restaurant, call Bruce House at 613-729-0911.