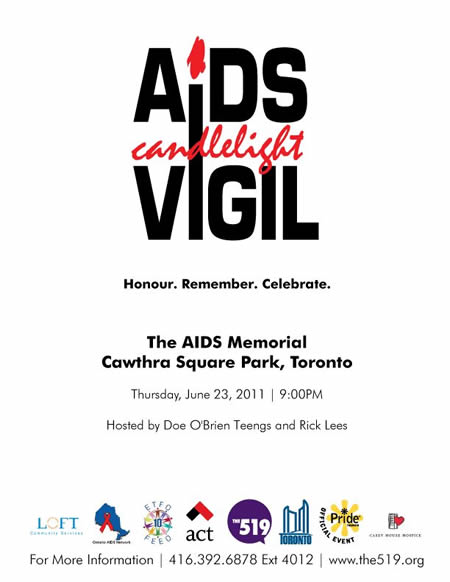 June 21, 2011 - TORONTO - At dusk on Thursday, June 23, 2011, two thousand people will light candles to honour, remember and celebrate those who have died of, are affected by, or are living with HIV/AIDS. The names of twenty-eight individuals will be added to the AIDS Memorial in Cawthra Square Park this year.
The theme for this year's annual AIDS Candlelight Vigil is families; biological families as well as the families that we choose or the families that choose us.
Through the past 30 years of the HIV/AIDS crisis, families have formed as people have come together to support one another and to help prevent the spread of HIV/AIDS. In the face of threats against City of Toronto funding for HIV/AIDS organizations, a new family has formed called 'Proud of Toronto'. The AIDS Vigil provides an opportunity for our City to reflect on the need for our continued action against HIV/AIDS in Toronto and the role governments, organizations and individuals play in that fight. (More information about Proud of Toronto can be found at ProudOfToronto.com)
WHAT: People living with HIV/AIDS, friends, family and community join together to honour, remember and celebrate people who have died and people who are still living with and affected by HIV/AIDS.
WHERE: Cawthra Square Park, 519 Church Street, Toronto, Ontario
WHEN: Thursday, June 23, 2011, 8:45 p.m. to 10:00 p.m.
WHO: Co-hosts Doris (Doe) O'Briend-Teengs, mother and community activist; Rick Lees, grandfather and community activist; performers include Vivek Shraya, Sarita DeSouza, Andrew Barthory, Emilio Zarris and the Regent Park Seniors Choir.
Please note that advance media registration is suggested and media are requested to sign in prior to 9:00 pm to avoid disruption of the Vigil. Advance and post event interviews will be arranged upon request.
###
ABOUT THE AIDS VIGIL:
The AIDS Candlelight Vigil is an open community event held annually at the AIDS Memorial to remember, honour and celebrate the people who have died of AIDS or AIDS related illnesses, or who have given their lives in the fight against HIV/AIDS. Every year, thousands of candles are lit to honour and remember those who have died, and to encourage and support others who live with this disease every day.
FOR FURTHER INFORMATION:
www.the519.org/events/aidsvigil
Matthew Cutler, The 519: mcutler@the519.org, 647.828.1653;
Todd Ross, AIDS Vigil Committee: tross@caseyhouse.on.ca, 416.505.4740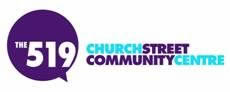 "Reproduced with permission - The 519 Church Street Community Centre"
The 519 Church Street Community Centre