INTERNATIONAL GAY AND LESBIAN HUMAN RIGHTS COMMISSION
Another Chance to Hear Archbishop Tutu Speak!
Earlier this week a crowd of almost 500 people witnessed history by attending IGLHRC's A Celebration of Courage gala awards ceremony in San Francisco. They saw veteran anti-apartheid campaigner and Nobel Peace Prize recipient Archbishop Desmond Tutu accept IGLHRC's OUTSPOKEN Award, recognizing his leadership as a global ally of the LGBTI community. And they heard him address the LGBTI community in the U.S. for the very first time.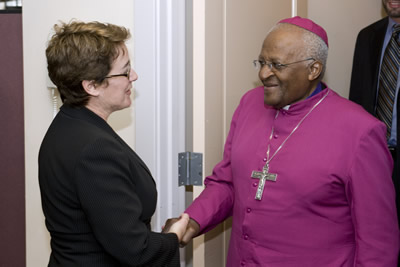 Archbishop Tutu shakes hands with Paula Ettelbrick, IGLHRC's Executive Director. You can download a high resolution version of the photo from our website
Photo credit: Steve Fisch
Archbishop Tutu condemned the persecution of LGBTI people, apologized for the way that the Church has ostracized members of our community, and, as this film clip from the event shows, praised LGBTI people for being "compassionate, caring, self-sacrificing and refusing to be embittered."
IGLHRC will show exclusive film footage of Archbishop Tutu's speech at its A Celebration of Courage event in New York City on April 28th at the Asia Society and Museum, where it will also present its 2008 Felipa Award to two outstanding grassroots activists-Arsham Parsi on behalf of the Iranian Queer Organization (IRQO) and Chilean trans activist Andrés Ignacio Rivera Duarte.
To view a short film clip from IGLHRC's San Francisco A Celebration of Courage event, which is posted on YouTube, click here.
To view more pictures from the San Francisco event, click here.
To purchase tickets for the New York A Celebration of Courage event, click here.
###
The International Gay and Lesbian Human Rights Commission (IGLHRC) is a leading human rights organization solely devoted to improving the rights of people around the world who are targeted for imprisonment, abuse or death because of their sexuality, gender identity or HIV/AIDS status. IGLHRC addresses human rights violations by partnering with and supporting activists in countries around the world, monitoring and documenting human rights abuses, engaging offending governments, and educating international human rights officials. A non-profit, non-governmental organization, IGLHRC is based in New York, with offices in Cape Town and Buenos Aires. Visit http://www.iglhrc.org for more information